$15.99
AUD
Category: Adventure
A high-flying new adventure series from mega-bestselling author Anh Do. Amber has always loved insects, even before the day her life changed forever. But now she feels something different. Something more...powerful. Controlling her power might be the hardest thing Amber has ever done. Especially when sh e is running for her life. Who is the mysterious Firefighter? What connection does he have to Amber's old life? And, most importantly, does Amber have what it takes to truly become ... Skydragon?    ...Show more
$14.99
AUD
Category: Adventure | Series: The Treehouse
Andy and Terry have added 13 new levels to their treehouse and now it's even more out of this world than before! There's a soap bubble blaster, a GRABINATOR (it can grab anything from anywhere at any time), a time-wasting level, a toilet paper factory (because you can never have too much toilet paper), a room full of mechanical grandparents, a super long legs level, an extraterrestrial observation centre and the best bookshop-in-a-treehouse-in-a-tree-in-a-forest-in-a-book in the whole world! Well, what are you waiting for? Come on up! ...Show more
$16.99
AUD
Category: Adventure
After a school excursion goes horribly wrong, Kensy and Max are left with a sneaking suspicion that the incident was no accident. But there's no time for investigation as the twins are whisked away on a fully sanctioned Pharos mission. Upon landing in Zermatt, Kensy and Max are tasked with infiltrating the Van Leer family. Strange as the Van Leers are, proof of their misdeeds is scarce. And when a surprising figure appears in the ski town, it seems there is more than one mystery to solve. Kensy and Max are on a mission for justice and won't stop until it's served. ...Show more
$2.99
AUD
Category: Adventure
The annual Pharos Trainee Spy Games competition is being held at Alexandria and Kensy and Max can't wait to participate - and win! The challenges include an obstacle course, driving races, extreme parkour, coding and the big one - a treasure hunt, full of danger and intrigue. The prizes for the games ar e legendary, and with only one champion, the twins are forced to go head to head. When the stakes are raised with news of a saboteur in their midst, Kensy and Max must put all their spy skills to the test. Who is the double agent? And which of the trainee spies has what it takes to emerge victorious? A special Kensy and Max story for Australia Reads. ...Show more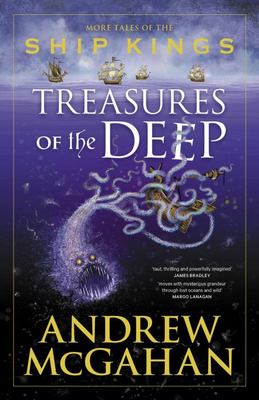 $19.99
AUD
Category: Adventure
An atmospheric collection of stories set amid the oceans, seas and tall ships of the Ship Kings -- from the CBCA shortlisted author of The Coming of the Whirlpool and the Miles-Franklin-award-winning novel, The White Earth. He turned: the scapegoat was pointing a fleshy arm directly down at the water, and following it Roland saw a mass of pale, stringy lines suddenly seething up from the deeps to surface all about the ship.He froze in disbelief. It couldn't be--But then the cry went up from the main deck.'Ropes! White ropes!'And so the horror began.A ship and its crew held in thrall by an ancient sea creature, a young girl blinded by foresight, a scapegoat with a gift to foresee death - these haunting short stories set in the Four Isles, the setting of Andrew McGahan's highly acclaimed Ship Kings series, tell fascinating tales of tall ships, ancient grudges and the full significance of the meaning of indefinite survival in an ocean that holds as many mysteries as it does drops of water.'A fitting end to the epic Ship Kings series, Treasures of the Deep moves with mysterious grandeur through lost oceans and wild. Its captains and crew, both real and ghostly, find equal parts horror and wonder in their path. These are some deep, dark, fantastical adventures. Do you dare to set sail?' --Margo Lanagan'I didn't think I could love Andrew McGahan's Ship Kings universe more than I already do. But these taut, thrilling and powerfully imagined stories catapulted me back into the excitement and delight of the original quartet. Perfect for long-time fans or for those new to the series, they're a wonderful reminder of the ambition and intelligence that made McGahan such an essential writer.' --James Bradley   ...Show more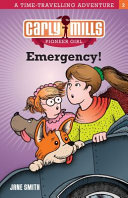 $12.50
AUD
Category: Adventure | Series: Carly Mills Pioneer Girl Ser.
When Carly moves from the farm to boarding school in the city, she knows it's going to be tough. But then her magical shawl takes her back to 1891 and into the path of Queensland's first female doctor, Lilian Cooper.  Carly learns what it means to be strong brave and determined and how everything is bet ter with a friend my your side. Book 2 of the ground breaking new time-travelling series featuring the world's most inspirational pioneering women. ...Show more
$19.99
AUD
Category: Adventure
Henry Khoo's family treats him like a baby. He's not allowed to go anywhere without his sister/chaperone/bodyguard. His (former) best friend knows to expect his family's mafia-style interrogation when Henry's actually allowed to hang out at her house. And he definitely CAN'T take a journey halfway aroun d the world all by himself! But that's exactly his plan. After his family's annual trip to visit his father in Singapore is cancelled, Henry decides he doesn't want to be cooped up at home with his overprotective family and BFF turned NRFF (Not Really Friend Forever). Plus, he's hiding a your-life-is-over-if-you're-caught secret: he's the creator of an anonymous gossip cartoon, and he's on the verge of getting caught. Determined to prove his independence and avoid punishment for his crimes, Henry embarks on the greatest adventure ever . . . hoping it won't turn into the greatest disaster ever. Remy Lai takes readers on an adventure filled with humour, heart, and hijinks that's a sure bet for fans of Jerry Craft, Terri Libenson, and Shannon Hale! ...Show more
$17.99
AUD
Category: Adventure | Series: #1 Elementals
From New York Times bestselling author Amie Kaufman comes the first book in an electrifying series about a brother and sister who must harness their powers and find their place in a sharply divided world. Everyone in Vallen knows that ice wolves and scorch dragons are sworn enemies who live deeply separ ate lives. So when twelve-year-old orphan Anders takes one elemental form and his twin sister, Rayna, takes another, he wonders whether they are even related. Family or not, Rayna is Anders's only true friend. She's nothing like the brutal, cruel dragons who claimed her as one of their own and stole her away. To rescue her, Anders must enlist at the foreboding Ulfar Academy, a school for young wolves that values loyalty to the pack above all else. But for Anders, loyalty is more complicated than obedience, and friendship is the most powerful shapeshifting force of all. ...Show more
$12.99
AUD
Category: Adventure | Series: Aussie Kids Ser.
Hi! I'm Zoe and this is Zac. We're so lucky we live at the zoo! As a birthday treat, we're helping out with the animals. We can't wait!
$19.99
AUD
Category: Adventure
When Jingwen moves to Australia, he feels like he's landed on Mars. Making friends is impossible, since he doesn't speak English, and he's stuck looking after his little brother Yanghao. But Jingwen knows how to make everything better. If he can just make all of the cakes on the menu of the bakery his f ather had planned to open—and complete the dream he didn't have time to finish—then everything will be okay. Sure, he'll have to break his mother's most important rule about not using the oven when she's at work, keep his little brother from spilling his secret, and brush up on his baking skills, but some things are worth the risk. In her debut novel, Remy Lai captures with humour and heart, what it means to want desperately to belong and just how powerful one wish can be. ...Show more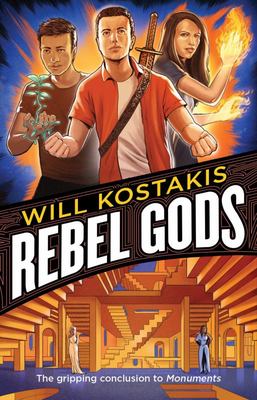 $19.99
AUD
Category: Adventure | Series: Monuments
With the Monuments gone, newbie gods Connor, Sally and Locky must stop the rebel gods from reducing the world to ruin. Trouble is, they don't know how. While Sally searches for answers and Locky makes plans to change the world, Connor struggles to keep up appearances as an ordinary teenager. But when a rebel god offers them a deal to end the chaos, their lives are turned upside down and they're forced to reckon with the question: Who should decide the fate of the world? Rebel Gods is the gripping conclusion to Monuments, a Children's Book Council of Australia Notable Book 2019, from Will Kostakis. It's a heartfelt look at family, friendship and the parallel lives we lead. ...Show more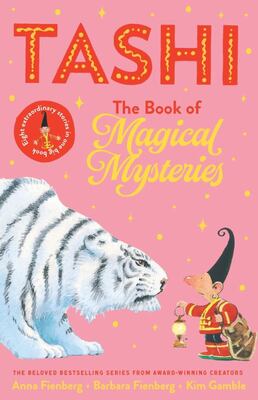 $16.99
AUD
Category: Adventure | Series: Tashi Ser.
No one in the village is as brave as Tashi . . . only he could scare the ghost monsters out of the forest, and only someone as bold as Tashi would go all the way along the dark underground passage to the Mountain of White Tigers. Tashi always has a cunning plan whether he is facing a ferocious war lord, outwitting a sly genie, or confronting Bang Bang, the trouble-making bully. Sometimes there's no time to think--Tashi just has to act fast. ...Show more