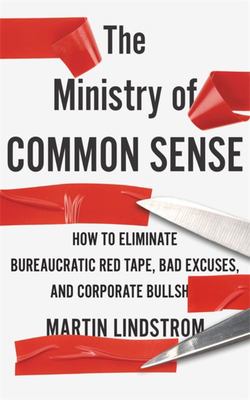 $29.99
AUD
Category: Business
How often in your life do you spend time following a rule or a procedure that makes no sense, offers little or no advantage, and slows you down in the process? In a world of work governed by a system of well-intentioned rules, that's something that happens all too often. In this book Martin Lindstrom - a global leader in branding and expert in organisational culture - takes you behind the scenes at companies which are paralyzed and demoralised by a breakdown in common sense. Lindstrom shares a five-step process for identifying and repairing these lapses, showing that restoring common sense always cuts costs, boosts engagement and increases customer retention. The stories in The Ministry of Common Sense are entertaining, troubling, eye-opening and recognisable to anyone who works in or leads an organisation of any size. It's easy to get blinded to problems right in front of you - but setting up your own Ministry of Common Sense will mean less time wasted on unnecessary things, less mistakes and misunderstandings, and a better way of working for all. ...Show more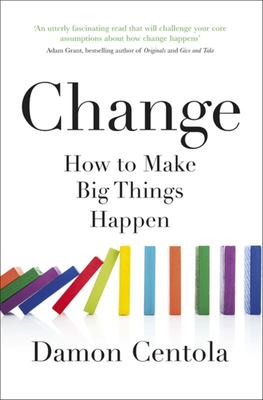 Change
by Damon Centola
$32.99
AUD
Category: Business
This is a book about how change happens - how ideas spread successfully, and why sometimes they fail. We are living in a world of strong opinions that feels more divided every day. Why is that? Much of what we know about how ideas spread comes from bestselling books like Blink and Nudge who paint a com pelling picture of a world, in which "influencers" are king, "sticky" ideas "go viral," and good behavior is "nudged" forward. The problem is that the world that Malcolm Gladwell or Richard Thaler describe is a world where information spreads, but beliefs and behaviours stay the same, one of simple contagions, which spread quickly to everyone, but do not have any lasting impact on what we think or how we live. This mythbusting book shows that change doesn't spread like a simple virus. Stickiness isn't everything. Influencers aren't the key. And Gladwell's "law of the few" from The Tipping Point is fully debunked. It is full of great case studies such as:Why Twitter took off, whilst Google has failed to create a social media platform of its own, despite multiple attempts. How Lord Kitchener recruited 2 million volunteers for the British Army at the start of the 1st World War. And how and why huge social movements like the Arab Spring and Black Lives Matter took off when they did. And, like the best smart thinking - it is written by the most qualified academic in the field: Damon Centola is director of Network Dynamics at the University of Pennsylvania (and has previously taught at MIT and Harvard). And this book is based on on 20 years of his groundbreaking research. ...Show more
$32.99
AUD
Category: Leadership
"Leading from Anywhere is the best book on remote work I've ever read --incisive, original, and eminently practical. Read it --and take notes "--Daniel H. Pink, author of When, Drive, and To Sell Is Human The ultimate guide to leading remote teams, tackling the key challenges that managers face --from hiring and onboarding new members from afar to building culture remotely, tracking productivity, communicating speedily, and avoiding burnout It's undeniable that we're entering a new era of remote work. While many leaders seek to run business as usual, why settle for the usual when remote teams allow us to work even better? The research shows that employees are more productive and engaged when they have the freedom to work from anywhere. Which means leaders need the skills to lead from anywhere. In this meticulously researched, refreshingly practical book, top business thought leader David Burkus provides managers with the field guide to leading remotely, packed with everyday examples and illuminating insights. Structured around the life cycle of working on a team, Burkus tackles the key inflection points and challenges that remote managers face, from taking the team remote and adding new members to communicating effectively and quickly, managing performance, keeping the team engaged, and even helping them strike the right balance between work and life. Leading from Anywhere provides everything you'll need to survive and thrive as the leader of a remote team --something all leaders will need to consider themselves from now on. ...Show more
$29.99
AUD
Category: Finance
A lively and accessible history of humanity's greatest - and strangest - creation: money.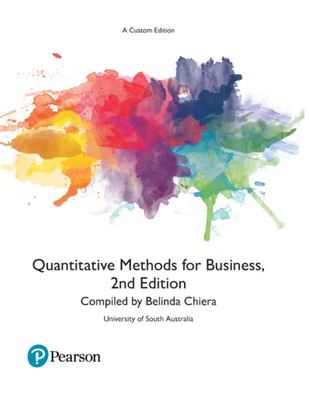 $104.85
AUD
$119.80
(12% off)
Category: Finance
This custom edition is published for the University of South Australia.
Rise
by Mark Bouris
$32.99
AUD
Category: Management
'Anyone can better themselves, better their life, better their situation. You've got to think big. People have lost faith in the system, it's time to empower yourself.' At a time of ultimate global disruption, many people are having to re-set their goals and take a new path. Mark Bouris is a self-made man who knows what that feels like. He sees this as an opportunity to change what isn't working. The founder of two hugely successful financial institutions, he's watched Australia's enormous potential be squandered as entrepreneurship has been ignored, ingenuity has been punished and our reputation for boxing above our weight as a nation has been torn down. It's pissed him off. And now, more than ever, he knows we all have to be our best self and not throw in the towel and think it is all too hard. Growing up in the working-class suburb of Punchbowl, in western Sydney, there were no silver spoons in the Bouris house. No easy rides. He learned quickly that he had to be his own best asset. To be resilient, focused and determined. To have energy, drive and a willingness to work his arse off. All of that was more valuable than any amount of money. It's what separated Mark from the pack, and what will help you stand out as well. You might be sitting there thinking, I can't do that, I can't do what he does, I can't be a Mark Bouris, it's all too difficult. But the fact is ... you can. Anyone can. And in Fight to Win he's going to show you how. ...Show more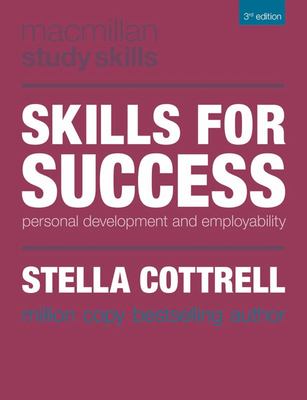 $38.95
AUD
Category: Business | Series: Palgrave Study Skills Ser.
Whatever stage your students are at, it's never too soon for them to be thinking about their future. Competition for jobs is fierce, and having a degree is no longer enough. This indispensable guide helps students to create their own personal development programme and develop the skills and capabilities required by today's employers. Step by step, it takes students from the initial stages of setting goals and defining success through to the application process for their dream job. Internationally acclaimed study skills author Stella Cottrell provides students with the ingredients they need to create their own recipe for success. This versatile resource is ideal for students on personal development modules from foundation through to postgraduate level. It can also be used independently by students from all disciplines. ...Show more
$20.95
AUD
Category: Leadership | Series: Capstone Classics Ser.
The original and bestselling leadership book Sun Tzu's ideas on survival and success have been read acrossthe world for centuries. Today they can still be applied tobusiness, politics and life. The Art of War demonstrates howto win without conflict. It shows that with enough intelligence andplanning, it is possible to conquer with a minimum of force andlittle destruction. This luxury hardback edition includes an introduction by TomButler-Bowdon that draws out lessons for managers and businessleaders, and highlights the power of Sun Tzu's thinking in everydaylife. ...Show more
$34.99
AUD
Category: Leadership
An inspirational and practical book written by two high-achieving women, sharing the experience and advice of some of our most extraordinary women leaders, in their own words. From their broad experience on the world stage in politics, economics and global not-for-profits, Ngozi Okonjo-Iweala and Julia Gillard have some strong ideas about the impact of gender on the treatment of leaders. Women and Leadership takes a consistent and comprehensive approach to teasing out what is different for women leaders. Almost every year new findings are published about the way people see women leaders compared with their male counterparts. The authors have taken that academic work and tested it in the real world. The same set of interview questions were put to each leader in frank face-to-face interviews. Their responses were then used to examine each woman's journey in leadership and whether their lived experiences were in line with or different from what the research would predict. Women and Leadership presents a lively and readable analysis of the influence of gender on women's access to positions of leadership, the perceptions of them as leaders, the trajectory of their leadership and the circumstances in which it comes to an end. By presenting the lessons that can be learned from women leaders, Julia and Ngozi provide a road map of essential knowledge to inspire us all, and an action agenda for change that allows women to take control and combat gender bias. Featuring Jacinda Ardern, Hillary Clinton, Ellen Johnson Sirleaf, Theresa May, Michelle Bachelet, Joyce Banda, Erna Solberg, Christine Lagarde and more. ...Show more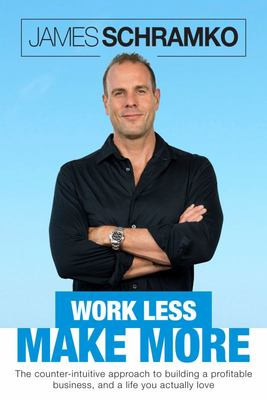 $22.95
AUD
Category: Business
Work Less, Make More is a dense delivery of solid systems and sane advice. It's not 80/20, it's 80/20 squared. Every few pages, James punches you in the face with an instantly actionable hack. Perry Marshall, Author of 80/20 Sales & Marketing, Ultimate Guide to Google AdWords, and Evolution 2.0James gives massive value in a fun and easy-to-read book. Real, actionable ways to cut your hours while increasing your income. Want to know how to do it in your own business? Get this and find out Jonathan MizelIn Work Less, Make More, James proves that keeping your business strategy simple produces far greater success (and happiness) than if you focus only on 'hustling'. John ReeseJames possesses a 'no-holds barred' approach to business which frees him to think outside ingrained assumptions regarding one's current realities and future opportunities. His candid advice in Work Less, Make More provides bold and practical wisdom for any person, of any vocation, who wants to lift the lid on their creative potential and move into unexplored territories of freedom and opportunity. Ian FreestoneI found Work Less, Make More--part memoir, part how-to guide--to be truly extraordinary James brings his unique analytical insights about how to think regarding complex issues in business. He describes the systems that he has designed to shape both meaningful work and relationships, as well as, a life worth living. So many authors attempt to "motivate" you, without giving any real instruction. I find that James provides both. Every page is full of so many principles, wisdom and insights--and I love how James incorporates his history and his life in such a thoughtful way. His book has already changed how I think about making decisions in my life and in my business. Tim Papadopoulos---- In 2006, whilst working in a full-time job, James Schramko wrote this in a notebook: MY GOALS ... create automated income so that I am independently wealthy and enjoy my life passionately.Within three years, he'd built his own business and achieved those goals. At which point he set about helping his coaching clients do the same. Leveraging his knowledge and experience, they were able to make more money while reducing their work hours. Significantly.This freed them up to spend more time living.It's easy to think working less and making more is something available only to a blessed few. But James has proven over and over again that this is not the case. All you require is: - An open mind, - The ability to focus on what's important, - An understanding of business models, and - A willingness to challenge your assumptions.Work Less, Make More will break down all the barriers standing between you and the above.It will teach you how to effectively leverage yourself, your team and your business via: - Increasing your personal effectiveness - Planning and goalsetting - Learning focus - Building a team - Creating an offer that converts - Leveraging the Profit Formula to boost cash flow - Understanding the importance of Customer Lifetime Value - Choosing the right business model - Removing compromise from your lifeThis book is for you if you are: - A business owner (big or small) - Currently in a job with a hard ceiling on how much you can earn - Overworked and underpaid - Stressed out and missing out on precious time with family and friends. ...Show more
$34.99
AUD
Category: Business
Working Backwards is an insider's breakdown of Amazon's approach to culture, leadership, and best practices from two long-time, top-level Amazon executives.   Colin started at Amazon in 1998; Bill joined in 1999. In Working Backwards, these two long-serving Amazon executives reveal and codify the prin ciples and practices that drive the success of one of the most extraordinary companies the world has ever known. With twenty-seven years of Amazon experience between them, much of it in the early aughts--a period of unmatched innovation that brought products and services including Kindle, Amazon Prime, Amazon Studios, and Amazon Web Services to life--Bryar and Carr offer unprecedented access to the Amazon way as it was refined, articulated, and proven to be repeatable, scalable, and adaptable.   With keen analysis and practical steps for applying it at your own company--no matter the size--the authors illuminate how Amazon's fourteen leadership principles inform decision-making at all levels and reveal how the company's culture has been defined by four characteristics: customer obsession, long-term thinking, eagerness to invent, and operational excellence. Bryar and Carr explain the set of ground-level practices that ensure these are translated into action and flow through all aspects of the business.   Working Backwards is a practical guidebook and a corporate narrative, filled with the authors' in-the-room recollections of what "Being Amazonian" is like and how it has affected their personal and professional lives. They demonstrate that success on Amazon's scale is not achieved by the genius of any single leader, but rather through commitment to and execution of a set of well-defined, rigorously-executed principles and practices--shared here for the very first time. A Macmillan Audio production from St. Martin's Press ...Show more