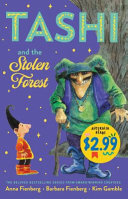 $2.99
AUD
Category: Fantasy
In this Australia Reads exclusive story, can Tashi use Much-to-Learn's spell to outsmart the Wicked Baron and stop the old forest from disappearing?  
$17.99
AUD
Category: Fantasy | Series: Morrigan Crow
Morrigan Crow and her friends have survived their first year as proud scholars of the elite Wundrous Society, helped bring down the nefarious Ghastly Market, and proven themselves loyal to Unit 919. Now Morrigan faces a new, exciting challenge: to master the mysterious Wretched Arts of the Accomplished Wundersmith, and control the power that threatens to consume her. Meanwhile, a strange and frightening illness has taken hold of Nevermoor, turning infected Wunimals into mindless, vicious Unnimals on the hunt. As victims of the Hollowpox multiply, panic spreads. There are whispers - growing louder every day - that this catastrophe can only be the work of the Wundersmith, Ezra Squall. But inside the walls of Wunsoc, everyone knows there is a new Wundersmith - one who's much closer to home. With Nevermoor in a state of fear and the truth about Morrigan threatening to get out, the city she loves becomes the most perilous place in the world. Morrigan must try to find a cure for the Hollowpox, but it will put her - and everyone in Nevermoor - in more danger than she could have imagined. ...Show more
$14.99
AUD
$17.99
(16% off)
Category: Fantasy | Series: Nevermoor | Reading Level: near fine
Morrigan Crow's adventures in the magical world of Nevermoor continue . . . The most anticipated sequel of the year - a treat for all fans of magic and 'wunder'. A stunningly designed package - with silver foil, hidden artwork under the jacket and beautifully designed interiors - a perfect gift for all young readers. 'An extraordinary story full of magics great and small' Kiran Millwood Hargrave, author of THE GIRL OF INK AND STARS Imagination, discovery and friendship await Morrigan Crow when she escapes her deadly curse and joins the Wundrous Society. It promises her protection and belonging for life - but then Morrigan doesn't receive the welcome she hoped for... Morrigan is a much-feared Wundersmith. So, instead of the Society helping Morrigan to embrace her power, she is only taught that all Wundersmiths are evil and she must suppress her mysterious ability at all costs. To make things worse, Nevermoor is quickly turning from a place of safety into one of danger. Society members are going missing, someone is blackmailing Morrigan's new friends, turning them against her. And Ezra Squall, the evillest man who ever lived, is determined to lure Morrigan from the Society by promising to reveal the true nature of the Wunder that calls to her, which is becoming ever harder to resist... Has Morrigan's dream of escaping her cursed life ended before it truly began? Perfect for fans of the Harry Potter series and His Dark Materials, this series takes readers into an extraordinary world, setting hope and imagination alive. NEVERMOOR - WINNER OF THE WATERSTONES CHILDREN'S BOOK PRIZE 2018 YOUNGER FICTION CATEGORY. ...Show more
$9.99
AUD
Category: Fantasy | Series: Keeper of the Lost Cities
A New York Times bestselling series. A USA TODAY bestselling series. A California Young Reader Medal-winning series. In this riveting series opener, a telepathic girl must figure out why she is the key to her brand-new world before the wrong person finds the answer first. Twelve-year-old Sophie has neve r quite fit into her life. She's skipped multiple grades and doesn't really connect with the older kids at school, but she's not comfortable with her family, either. The reason? Sophie's a Telepath, someone who can read minds. No one knows her secret--at least, that's what she thinks...   But the day Sophie meets Fitz, a mysterious (and adorable) boy, she learns she's not alone. He's a Telepath too, and it turns out the reason she has never felt at home is that, well...she isn't. Fitz opens Sophie's eyes to a shocking truth, and she is forced to leave behind her family for a new life in a place that is vastly different from what she has ever known.   But Sophie still has secrets, and they're buried deep in her memory for good reason: The answers are dangerous and in high-demand. What is her true identity, and why was she hidden among humans? The truth could mean life or death--and time is running out. ...Show more
$45.00
AUD
Category: Fantasy
A mythical monster, a kingdom in peril, an adventure that will test two children's bravery to the limit. Discover a brilliantly original fairy tale about the power of hope and friendship to triumph against all odds, from one of the world's best storytellers. The kingdom of Cornucopia was once the happi est in the world. It had plenty of gold, a king with the finest moustaches you could possibly imagine, and butchers, bakers and cheesemongers whose exquisite foods made a person dance with delight when they ate them. Everything was perfect – except for the misty Marshlands to the north which, according to legend, were home to the monstrous Ickabog. Anyone sensible knew that the Ickabog was just a myth, to scare children into behaving. But the funny thing about myths is that sometimes they take on a life of their own. Could a myth unseat a beloved king? Could a myth bring a once happy country to its knees? Could a myth thrust two children into an adventure they didn't ask for and never expected? If you're feeling brave, step into the pages of this book to find out… A beautiful hardback edition, perfect for sharing and gift-giving. Brought to life with full-colour illustrations by the young winners of The Ickabog competition.   ...Show more
$16.99
AUD
Category: Fantasy
Merdyn the Wild is from the Dark Ages. He's the world's greatest Warlock (don't call him a wizard), banished to the 21st century for bad behaviour, and determined to wreak vengeance on his nemesis. Rose is a totally ordinary girl, on a mission to mend her broken family. Bubbles is Rose's guinea pig. He just poos a lot. When Rose bumps into Merdyn and discovers what he is, she quickly realises that he could be just what she needs. Rose agrees to help Merdyn navigate the confusing ways of the modern world (things like: the lidded bowl in the bathroom is NOT a sink, it's a TOILET, so definitely DON'T wash your face in it) if Merdyn gives her a spell to fix her family in return. Now they just need to hide him in the shed without Rose's mum noticing, track down Merdyn's magic staff and find a way to send Merdyn back through time to the Dark Ages. What could possibly go wrong...? From the writer of the Paddington 2 movie and writer and star of Horrible Histories, this hilariously silly, heartfelt adventure with a historical twist is perfect for fans of David Walliams and David Baddiel. ...Show more
$29.99
AUD
Category: Fantasy
Jim Kay's dazzling depiction of J.K. Rowling's wizarding world has won legions of fans since the first Illustrated Edition of the Harry Potter novels was published in hardback in 2015, becoming a bestseller around the world. This irresistible smaller-format paperback edition ofHarry Potter and the Priso ner of Azkaban perfectly pairs J.K. Rowling's storytelling genius with Jim Kay's illustration wizardry, bringing the magic of Harry Potter to new readers with full-colour pictures and a handsome poster pull-out at the back of the book. This edition has been beautifully redesigned with selected illustration highlights, and is packed with breathtaking scenes and unforgettable characters - including Sirius Black, Remus Lupin and Professor Trelawney. The fully illustrated edition is still available in hardback. Fizzing with magic and brimming with humour, this inspired reimagining will captivate wizards and Muggles alike, as Harry, now in his third year at Hogwarts School of Witchcraft and Wizardry, faces Dementors, death omens and - of course - danger.   ...Show more
$17.99
AUD
Category: Fantasy | Series: Nevermoor | Reading Level: very good
A breathtaking, enchanting new series by debut author Jessica Townsend, about a cursed girl who escapes death and finds herself in a magical world-but is then tested beyond her wildest imagination. Having been born on Eventide, the unluckiest day for any child to be born, she is blamed for all local mi sfortunes, from hailstorms to heart attacks - and, worst of all, the curse means that Morrigan is doomed to die at midnight on her eleventh birthday. But as Morrigan awaits her fate, a strange and remarkable man named Jupiter North appears. Chased by black-smoke hounds and shadowy hunters on horseback, he whisks her away into the safety of a secret, magical city called Nevermoor. It's then that Morrigan discovers Jupiter has chosen her to contend for a place in the city's most prestigious organization: the Wundrous Society. In order to join, she must compete in four difficult and dangerous trials against hundreds of other children, each boasting an extraordinary talent that sets them apart - an extraordinary talent that Morrigan insists she does not have. To stay in the safety of Nevermoor for good, Morrigan will need to find a way to pass the tests-or she'll have to leave the city to confront her deadly fate. Perfect for fans of the Harry Potter series and Neil Gaiman, this fast-paced plot and imaginative world has a fresh new take on magic that will appeal to a new generation of readers. ...Show more
$15.99
AUD
Category: Fantasy | Series: Rowan of Rin
The witch Sheba is tormented by strange visions of terrifying riddles. No one can help her except the boy Rowan, whose face appears in her dreams. When travellers arrive in the village of Rin, Rowan gets caught in a web of intrigue and danger as he races against time to solve the witch's riddle.
$18.99
AUD
Category: Fantasy | Series: Omte Origins
Welcome to a world in the shadow of our own, a fairytale land where the dangers are real . . . In The Ever After, the final book in the Omte Origins trilogy, Amanda Hocking creates an epic adventure in her much-loved Trylle universe. Ulla, Pan and Eliana will embark on their greatest adventure yet, with consequences for the entire Trylle world. 'Addictive' Guardian 'Drew me in and kept me hooked' Sunday Express   ...Show more
$15.99
AUD
Category: Fantasy
When Art's mother is accused of witchcraft, she is determined to get her back - at any cost. A lyrical adventure with folklore at its heart, for fans of THE HOUSE WITH CHICKEN LEGS. Twelve-year-old Art lives in a small village in Scotland. Her mother has always made potions that cure the sick, but now the townspeople say she is a witch. One cloudless night, Art's mother is accused of Witchcraft, arrested, and taken from Scotland to England. Art mounts her horse, taking a sword, a tightrope, and a herbal recipe book, and begins a journey through wild forests to find her mother before summer solstice, using nature's signs and symbols to guide her. On her journey, Art will discover what sacrifices she will need to make to be reunited with her mother - and to alter the fate of women everywhere. But will she reach her, before it's too late?   ...Show more
$14.99
AUD
Category: Fantasy | Series: The Chronicles of Never After
The Thirteenth Fairy is the first title in Never After, an exciting contemporary fantasy adventure series for readers of 9 to 11 by Melissa de la Cruz, the bestselling author of Disney's Descendants series. Perfect for fans of Disney's Twisted Tales.Nothing exciting ever happens in Filomena Jefferson-Ch o's small town. Until the day Jack Stalker, one of the heroes from her all-time favourite books, the Never After series, turns up. She must be dreaming! But Jack insists that he's real, the stories are real, and she must come with him at once. Filomena is thrust into a world of fairies, sorcerers, dragons and slayers, where an evil queen is determined to wipe out the fairy tribes. To save the kingdom, Filomena and her new friends must find the truth behind the tale of the Thirteenth Fairy before it's too late. ...Show more