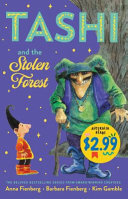 $2.99
AUD
Category: Fantasy
In this Australia Reads exclusive story, can Tashi use Much-to-Learn's spell to outsmart the Wicked Baron and stop the old forest from disappearing?  
$14.99
AUD
$17.99
(16% off)
Category: Fantasy | Series: Nevermoor | Reading Level: near fine
Morrigan Crow's adventures in the magical world of Nevermoor continue . . . The most anticipated sequel of the year - a treat for all fans of magic and 'wunder'. A stunningly designed package - with silver foil, hidden artwork under the jacket and beautifully designed interiors - a perfect gift for all young readers. 'An extraordinary story full of magics great and small' Kiran Millwood Hargrave, author of THE GIRL OF INK AND STARS Imagination, discovery and friendship await Morrigan Crow when she escapes her deadly curse and joins the Wundrous Society. It promises her protection and belonging for life - but then Morrigan doesn't receive the welcome she hoped for... Morrigan is a much-feared Wundersmith. So, instead of the Society helping Morrigan to embrace her power, she is only taught that all Wundersmiths are evil and she must suppress her mysterious ability at all costs. To make things worse, Nevermoor is quickly turning from a place of safety into one of danger. Society members are going missing, someone is blackmailing Morrigan's new friends, turning them against her. And Ezra Squall, the evillest man who ever lived, is determined to lure Morrigan from the Society by promising to reveal the true nature of the Wunder that calls to her, which is becoming ever harder to resist... Has Morrigan's dream of escaping her cursed life ended before it truly began? Perfect for fans of the Harry Potter series and His Dark Materials, this series takes readers into an extraordinary world, setting hope and imagination alive. NEVERMOOR - WINNER OF THE WATERSTONES CHILDREN'S BOOK PRIZE 2018 YOUNGER FICTION CATEGORY. ...Show more
$9.99
AUD
Category: Fantasy | Series: Keeper of the Lost Cities
In this riveting series opener, a telepathic girl must figure out why she is the key to her brand-new world before the wrong person finds the answer first. Twelve-year-old Sophie has never quite fitted into her life. She's skipped multiple grades and doesn't really connect with the older kids at school , but she's not comfortable with her family either. The reason? Sophie's a Telepath, someone who can read minds.  No one knows her secret--at least, that's what she thinks...   But the day Sophie meets Fitz, a mysterious (and adorable) boy, she learns she's not alone. He's a Telepath too and it turns out the reason she has never felt at home is that, well...she isn't. Fitz opens Sophie's eyes to a shocking truth, and she is forced to leave behind her family for a new life in a place that is vastly different from what she has ever known.   But Sophie still has secrets, and they're buried deep in her memory for good reason: The answers are dangerous and in high-demand. What is her true identity, and why was she hidden among humans? The truth could mean life or death--and time is running out. ...Show more
$14.99
AUD
Category: Fantasy | Series: Rise of the Mythix
What happens when three ordinary teenagers discover they are destined to be … the Unicorn, the Minotaur, the Griffin? The minotaur will be recognised by his strength. Kelly doesn't believe in ancient prophecies. Then again, up until recently, she also didn't believe a horn could grow out of her forehead . Now the Collector is holding her mother hostage, and if Kelly wants to rescue her she needs to learn how to wield all the powers of the Unicorn. She also needs some help. She needs to find... the Minotaur. Minh knows something epic is going on. For the last year, he has been getting stronger and stronger. He can pull a plough as well as any horse. He can lift cars. But he has no idea that this is just the beginning... Kelly and Minh will need to help each other if they are to have any hope of bringing down the Collector and rescuing the people they love. ...Show more
$14.99
AUD
Category: Fantasy | Series: Rise of the Mythix
Some heroes are legends. Some legends are real. The tyrant known as the Soul Collector hunts down anything that is beautiful, unusual or unique. Kelly Swift is trying hard to be an average teenager, to fit in. But every day her powers are growing: she can run faster than the wind, she can hear people's thoughts, she is not normal. When her mother is taken by the Soul Collector, Kelly can't linger in the shadows any longer. But who is she really? Can she be the one in the prophecy? Is she...the Golden Unicorn? The Golden Unicorn, the Minotaur and the Griffin - Only these three united to a common purpose can fell him who seeks to triumph over all... ...Show more
$17.99
AUD
Category: Fantasy | Series: Morrigan Crow
Morrigan Crow and her friends have survived their first year as proud scholars of the elite Wundrous Society, helped bring down the nefarious Ghastly Market, and proven themselves loyal to Unit 919. Now Morrigan faces a new, exciting challenge: to master the mysterious Wretched Arts of the Accomplished Wundersmith, and control the power that threatens to consume her. Meanwhile, a strange and frightening illness has taken hold of Nevermoor, turning infected Wunimals into mindless, vicious Unnimals on the hunt. As victims of the Hollowpox multiply, panic spreads. There are whispers - growing louder every day - that this catastrophe can only be the work of the Wundersmith, Ezra Squall. But inside the walls of Wunsoc, everyone knows there is a new Wundersmith - one who's much closer to home. With Nevermoor in a state of fear and the truth about Morrigan threatening to get out, the city she loves becomes the most perilous place in the world. Morrigan must try to find a cure for the Hollowpox, but it will put her - and everyone in Nevermoor - in more danger than she could have imagined. ...Show more
$16.99
AUD
Category: Fantasy | Series: The Strangeworlds Travel Agency
Pack your suitcase for a magical adventure! At the Strangeworlds Travel Agency, each suitcase transports you to a different world. All you have to do is step inside... Flick is now a badge-wearing member of The Strangeworlds Travel Agency so when an urgent summons arrives at Strangeworlds from Pirate Q ueen Nyfe, she and Strangeworlds Society guardian Jonathan immediately pack their bags for an adventure to Queen Nyfe's world: The Break, a place of magic and piracy. Nyfe's world is falling apart. The Break is used to having ships vanish without a trace, but there has been a sudden increase that can't be explained by giant squid or mer-people. The edge of their flat world is coming ever closer to them and they need to escape before it collapses entirely.But how do you sail a ship through a suitcase? How do you fit a mer-queen the size of a whale into something small enough to carry in your hand? Will Flick and Jonathan be able to find a way to transport the inhabitants of the Break to another world before theirs disappears forever? A magical adventure for 9+ readers that will take you to whole new worlds, perfect for fans of The Train to Impossible Places and The Polar Bear Explorers' Club.   ...Show more
$15.99
AUD
Category: Fantasy | Series: Rowan of Rin
The witch Sheba is tormented by strange visions of terrifying riddles. No one can help her except the boy Rowan, whose face appears in her dreams. When travellers arrive in the village of Rin, Rowan gets caught in a web of intrigue and danger as he races against time to solve the witch's riddle.
$18.99
AUD
Category: Fantasy | Series: Omte Origins
Welcome to a world in the shadow of our own, a fairytale land where the dangers are real . . . In The Ever After, the final book in the Omte Origins trilogy, Amanda Hocking creates an epic adventure in her much-loved Trylle universe. Ulla, Pan and Eliana will embark on their greatest adventure yet, with consequences for the entire Trylle world. 'Addictive' Guardian 'Drew me in and kept me hooked' Sunday Express   ...Show more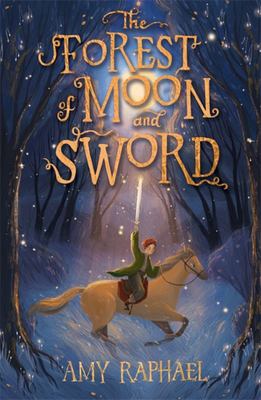 $15.99
AUD
Category: Fantasy
When Art's mother is accused of witchcraft, she is determined to get her back - at any cost. A lyrical adventure with folklore at its heart, for fans of THE HOUSE WITH CHICKEN LEGS. Twelve-year-old Art lives in a small village in Scotland. Her mother has always made potions that cure the sick, but now the townspeople say she is a witch. One cloudless night, Art's mother is accused of Witchcraft, arrested, and taken from Scotland to England. Art mounts her horse, taking a sword, a tightrope, and a herbal recipe book, and begins a journey through wild forests to find her mother before summer solstice, using nature's signs and symbols to guide her. On her journey, Art will discover what sacrifices she will need to make to be reunited with her mother - and to alter the fate of women everywhere. But will she reach her, before it's too late?   ...Show more
$16.99
AUD
Category: Fantasy | Series: Vega Jane
Full of thrills, mystery and danger, Vega Jane and the Maze of Monsters is the second title in the fast-paced fantasy adventure series for children of 10+ by bestselling master storyteller David Baldacci. Everything Vega Jane has ever known is a lie. But if she and her best friend Delph are to find the truth about who they are and where they came from, they must first survive the Quag, a wild, enchanted place filled with monsters and dark sorcery. It will stretch their courage to the limit. The Quag will throw everything at Vega. It will try to break her. It will try to kill her. And survival might come at a price not even Vega is willing to pay.Vega Jane and the Maze of Monsters (previously published as The Keeper) is the second installment in master storyteller David Baldacci's bestselling Vega Jane series for children, now in a revised and re-illustrated edition. ...Show more
$16.99
AUD
Category: Fantasy | Series: Vega Jane
Full of magic, danger and mystery, Vega Jane and the Secrets of Sorcery (previously published as The Finisher) is the first title in the thrilling fantasy adventure series for children of 10+ by bestselling master storyteller David Baldacci. Vega Jane is fourteen when she is secretly given a map that r eveals a mysterious world and dangerous creatures beyond the walls of Wormwood, a place no one has ever left - or wanted to. Until now. The map makes her question everything she has ever been told about the place she calls home. Her friend Delph and her dog, Harry Two, are the only ones Vega trusts. Trapped by secrets and lies, they want freedom and truth. But she will have to fight for freedom. And the truth may cost Vega her life. ...Show more