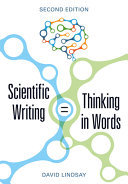 $34.99
AUD
Category: Writing
Telling people about research is just as important as doing it. But many competent researchers are wary of scientific writing, despite its importance for sharpening scientific thinking, advancing their career, obtaining funding for their work and growing the prestige of their institution. This second ed ition of David Lindsay's popular book Scientific Writing = Thinking in Words presents a way of thinking about writing that builds on the way good scientists think about research. The simple principles in this book will help you to clarify the objectives of your work and present your results with impact. Fully updated throughout, with practical examples of good and bad writing, an expanded chapter on writing for non-scientists and a new chapter on writing grant applications, this book makes communicating research easier and encourages researchers to write confidently. It is an ideal reference for researchers preparing journal articles, posters, conference presentations, reviews and popular articles; for students preparing theses; and for researchers whose first language is not English. Makes it easy to understand what goes where in scientific publications and, equally importantly, whyReinforces principles with examples of good and bad writingAddresses new issues for publishing, including open access and predatory journalsEmphasizes writing effectively in other media that scientists must use, including conference papers, posters, theses, reviews, popular articles and grant applicationsExplains the principles behind writing and how it affects readers rather than proposing recipes for good writing ...Show more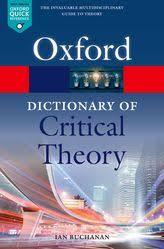 $25.95
AUD
Category: Literary Theory | Series: Oxford Quick Reference Ser.
Boasting more than 750 entries, this is the most wide-ranging and up-to-date dictionary of critical theory available, covering the whole range of critical theory, including the Frankfurt school, cultural materialism, cultural studies, gender studies, film studies, literary theory, hermeneutics, historic al materialism, internet studies, sociopolitical critical theory, and much more. Entries clearly explain even the most complex of theoretical discourses, such as Marxism, psychoanalysis, structuralism, deconstruction, and postmodernism. There are biographies of important figures in the field, with feature entries for those who have heavily influenced areas of the discipline. Entries are fully cross-referenced and contain further reading where appropriate. To provide relevant extra information, this edition features recommended web links for many entries, accessible via the Dictionary of Critical Theory companion website, where they are checked regularly and kept up to date. Covering all aspects of the subject from globalization and race studies, to queer theory and feminism, this multidisciplinary A-Z is essential for students of literary and cultural studies and is useful for anyone studying a subject requiring a knowledge of theory. ...Show more
$32.99
AUD
Category: Writing
Helen Garner is one of Australia's most important, and some would say, most admired living writers. That admiration is inspired by a sense that she is honest, authentic and fearless in the pursuit of her craft. But Garner also courts controversy, not least because she refuses to be constrained by the ru les of literary form. She appears to write so much of herself into her non-fiction, and many of her own experiences inform her fiction. But who is the 'I' in Helen Garner's work? Dr Bernadette Brennan has had access to previously unavailable papers in Garner's archive, and she provides a lively and rigorous reading of the books, journals and correspondence of one of Australia's most beloved women of letters.A Writing Lifeis the first full-length study of Garner's work, a literary portrait that maps Garner's writing against the different stages of her life. ...Show more
$29.99
AUD
Category: Writing
An in-depth look at the science behind the creative methods Shakespeare used to kill off his characters. In Death By Shakespeare, Kathryn Harkup, best-selling author of A is for Arsenic and expert on the more gruesome side of science, turns her expertise to William Shakespeare and the creative methods he used to kill off his characters. Is death by snakebite really as serene as Cleopatra made it seem? How did Juliet appear dead for 72 hours only to be revived in perfect health? Can you really kill someone by pouring poison in their ear? How long would it take before Lady Macbeth died from lack of sleep? Harkup investigates what actual events may have inspired Shakespeare, what the accepted scientific knowledge of the time was, and how Elizabethan audiences would have responded to these death scenes. Death by Shakespeare reveals this and more in a rollercoaster of Elizabethan carnage, poison, swordplay and bloodshed, with an occasional death by bear-mauling for good measure.In the Bard's day death was a part of everyday life. Plague, pestilence and public executions were a common occurrence, and the chances of seeing a dead or dying body on the way home from the theater was a fairly likely scenario. Death is one of the major themes that reoccurs constantly throughout Shakespeare's canon, and he certainly didn't shy away from portraying the bloody reality of death on the stage. He didn't have to invent gruesome or novel ways to kill off his characters when everyday experience provided plenty of inspiration. Shakespeare's era was also a time of huge scientific advance. The human body, its construction and how it was affected by disease came under scrutiny, overturning more than a thousand years of received Greek wisdom, and Shakespeare himself hinted at these new scientific discoveries and medical advances in his writing, such as circulation of the blood and treatments for syphilis. Shakespeare found dozens of different ways to kill off his characters, and audiences today still enjoy the same reactions--shock, sadness, fear--that they did over 400 years ago when these plays were first performed. But how realistic are these deaths, and did Shakespeare have the science to back them up? ...Show more
$16.99
AUD
Category: Writing
A hilarious, furious and profoundly useful short guide to the most maddening punctuation in English   Apostrophes are an f'ing pain. The rules about how to use them are complicated, and have evolved haphazardly.   Originally written as advice by a copywriter for designers -- wont to insert and remov e apostrophes at will, for visual effect -- this is a lighthearted pocket-sized guide to getting the f'ing things right.   Simon Griffin lets off steam so that we don't have to, showing precisely why "Rihanna and Jennifer's photos were all over the Internet" is quite different to "Rihanna's and Jennifer's photos" or what words apostrophes are replacing in sentences such as "He'd like you to buy him some cocaine," or "They've got it all on camera."   Elegantly produced, this is the perfect gift for any pedant, as well as an indispensable guide in all our moments of grammar-related frustration.   WARNING: CONTAINS EXPLICIT LANGUAGE ...Show more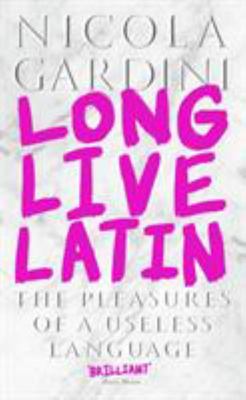 $32.99
AUD
Category: Literary Essays
Virgil gave us the Aeneid, and Ovid the Metamorphoses; Lucretius analysed the material world and Caesar interrogated how we view reality through the lens of reason - but what does Latin offer us today?Often seen as the bulky relic of school curricula long forgotten, Latin seems to have lost its punch in the popular conscious. Oxford academic Nicola Gardini, however, argues the case for its lasting importance, offering a personal and passionate defence of the beauty and future of the language. From these ancient writers, we can learn about such vital aspects of life as love, purpose, eloquence, beauty and loss. These lessons from the past can illuminate our present, and Gardini encourages us to dig to the roots of our own language to consider how Latin has influenced the ways in which we communicate, think and live today. A formidable mix of history, memoir and criticism, this is a beautiful love letter to one language that ultimately celebrates the vital power of all literature. ...Show more
$12.99
AUD
Category: Writing | Series: BRYSON BI | Reading Level: good
With dazzling wit and astonishing insight, Bill Bryson--the acclaimed author of The Lost Continent--brilliantly explores the remarkable history, eccentricities, resilience and sheer fun of the English language. From the first descent of the larynx into the throat (why you can talk but your dog can't), t o the fine lost art of swearing, Bryson tells the fascinating, often uproarious story of an inadequate, second-rate tongue of peasants that developed into one of the world's largest growth industries. ...Show more
$19.99
AUD
Category: Writing
A compendium of 100 words and phrases smart people use-even if they only kinda sorta (secretly don't) know what they mean-with pithy definitions and fascinating etymologies to solidify their meanings.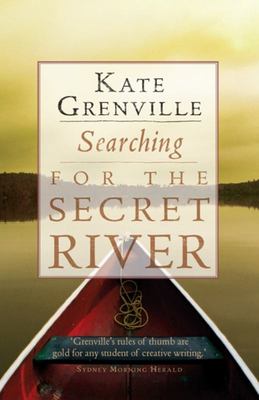 $22.99
AUD
Category: Literary Essays
Searching for the Secret Riveris the extraordinary story of how Kate Grenville came to write her award-winning novel, The Secret River. It all began with her ancestor Solomon Wiseman - transported to New South Wales for the term of his natural life - who later became a wealthy man and built his colonia l mansion on the Hawkesbury. Increasingly obsessed with his story, Grenville pursued him from Sydney to London and back, and then up the Hawkesbury itself. Slowly she began to realise she must write about him. Grenville tells us about how this novel was formed, the research she did, the false starts she made and the frustrations she experienced. Searching for the Secret Riveris a great book about the writing of a great novel. 'It is education in the art, and craft, of fiction, a lesson in the arduous devotion it can command. Yet it is much more than a quite unbelievably generous "invitation into her writing room". It is a courageous public scrutiny of her motives.' Weekend Australian ...Show more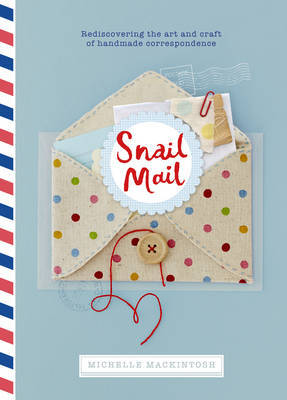 $29.95
AUD
Category: Writing
Inspired by Japanese stationery and letter-writing culture, Michelle Mackintosh introduces the reader to the charm of the handwritten letter, personalised packages and handcrafted stationery. Beautifully illustrated and complete with cut-out postcard designs, papercraft and rubber stamp templates, Snail Mail is full of equally useful and whimsical advice, like how to say thank you in a letter, romance someone, and other old-school etiquette; how to take time and reflect on your life through writing; how to improve and celebrate your own handwriting; how to make your own paper; how to choose papers, make stickers and stamps (and the best places to shop for materials); how to prepare a care package for friends and loved ones; how to make beautiful DIY invitations; and how to make pen friends. The ideal gift for a friend or cute self-purchase, Snail Mail will appeal to anyone who is tired of social media and the age of the text message. ...Show more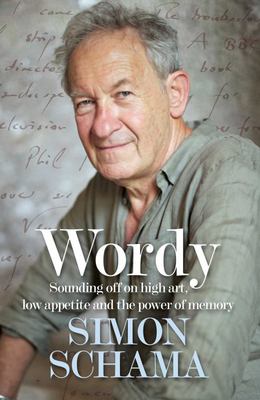 $35.00
AUD
Category: Writing
'Wordy is about the intoxication of writing; my sense of playful versatility; different voices for different matters: the polemical voice for political columns; the sharp-eyed descriptive take for profiles; poetic precision in grappling with the hard task of translating art into words; lyrical recall fo r memory pieces. And informing everything a rich sense of the human comedy and the ways it plays through historical time. It's also a reflection on writers who have been shamelessly gloried in verbal abundance; the performing tumble of language - those who have especially inspired me - Dickens and Melville; Joyce and Marquez.' Sir Simon Schama has been at the forefront of the arts, political commentary, social analysis and historical study for over forty years. As a teacher of Art History and an award-winning television presenter of iconic history-based programming, Simon is equally a prolific bestselling writer and award-winning columnist for many of the world's foremost publishers, broadsheet newspapers, periodicals and magazines. His commissioned subjects over the years have been numerous and wide ranging - from the music of Tom Waits, to the works of Sir Quentin Blake; the history of the colour blue, to discussing what skills an actor needs to create a unique performance of Falstaff. Schama's tastes are wide-ranging as they are eloquent, incisive, witty and thought provoking and have entertained and educated the readers of some of the world's most respected publications - the Times, the Guardian, the New Yorker, Harper's Bazaar and Rolling Stone magazine.   Wordy is a celebration of one of the world's foremost writers. This collection of fifty essays chosen by the man himself stretches across four decades and is a treasure trove for all those who have a passion for the arts, politics, food and life.   ...Show more