Our next get-together is on Thursday March 12th at 6pm. The book we will be chatting about is Shark Arm by Phillip Roope. Please call us for further details on 3339 44949 or email info@booksatstones.com.au
Our Book Clubs are free to join, we just ask that participants purchase the book from Books@Stones at a 10% discount.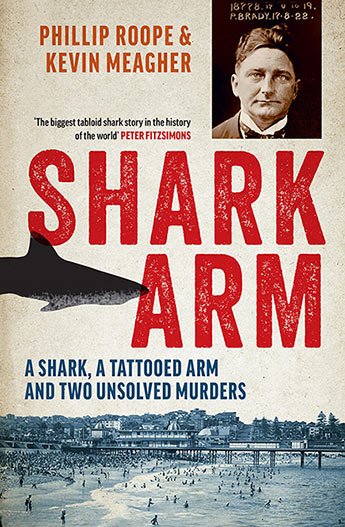 Truth can be stranger than fiction. In a Coogee aquarium in 1935 a shark coughed up a man's tattooed arm. The authors of Shark Arm have unravelled an extraordinary tale of high-class smuggling around Sydney Harbour and police collusion that has eluded many investigations into this famous cold case.
It all started with a ruthless murder. An ex-boxer and petty police informer was efficiently disposed of, sending a ghastly warning to others. That would have been the end of it, had not a shark, in a million-to-one chance, vomited up the victim's arm in an aquarium and shone an unwelcome light into some very dark places.

With so much at stake, the guilty closed ranks and gradually, with intimidation, money, and the murder of a mate who they feared would betray them, they re-imposed their control and the light was turned off again. The memory of those events, and the terrible fear they inspired, kept those who knew the truth silent unto the grave.

Others have written about the Shark Arm murder but Phillip Roope and Kevin Meagher, having digested the entire cold-case police file, reveal a very different story: an extraordinary tale of high-class smuggling, a frantic cover-up and the truth behind one of the most infamous cases in Australia. Except there were actually two gruesome murders . . .

'The biggest tabloid shark story in the history of the world' - Peter FitzSimons

'A truly gripping whodunnit which throws fresh light on one of Australia's most extraordinary murders.' - Kate McClymont