Opening Hours
Monday-Friday: 9am-6pm
Saturday: 9am-3pm
Sunday: 10am-3pm
Meet the Author Tabitha Bird
Thursday June 24th at 6.30pm
Lady Marmalade Cafe & Bar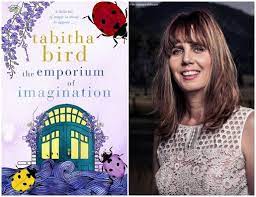 $32.99
AUD
Category: Australian Fiction
From the author of A Lifetime of Impossible Days (winner of the Courier-Mail People's Choice QLD Book of the Year Award) comes this beautiful and uplifting story, that will make you laugh and make you cry. Welcome to The Emporium of Imagination, a most unusual shop that travels the world offering vintag e gifts to repair broken dreams and extraordinary phones to contact lost loved ones. But, on arrival in the tiny township of Boonah, the store's long-time custodian, Earlatidge Hubert Umbray, makes a shocking realisation. He is dying . . . The clock is now ticking to find his replacement, because the people of Boonah are clearly in need of some restorative magic. Like Enoch Rayne - a heartbroken ten-year-old boy mourning the loss of his father, while nurturing a guilty secret. Like Ann Harlow, who has come to the town to be close to her dying grandmother. Though it's Enoch's father who dominates her thoughts - and regrets . . . Even Earlatidge in his final days will experience the store as never before - and have the chance to face up to his own tragedy . . . 'Prepare to immerse yourself in wonder, childish delight and dark, dark trauma in this unique novel from a new and important Australian literary voice.' Australian Women's Weekly on A Lifetime of Impossible Days ...Show more
$29.99
AUD
Category: Travel
Anthony Bourdain saw more of the world than nearly anyone. His travels took him from the hidden pockets of his hometown of New York to a tribal longhouse in Borneo, from cosmopolitan Buenos Aires, Paris, and Shanghai to Tanzania's utter beauty and the stunning desert solitude of Oman's Empty Quarter - a nd many places beyond. In World Travel, a life of experience is collected into an entertaining, practical, fun and frank travel guide that gives readers an introduction to some of his favorite places - in his own words. Featuring essential advice on how to get there, what to eat, where to stay and, in some cases, what to avoid, World Travel provides essential context that will help readers further appreciate the reasons why Bourdain found a place enchanting and memorable. Supplementing Bourdain's words are a handful of essays by friends, colleagues, and family that tell even deeper stories about a place, including sardonic accounts of traveling with Bourdain by his brother, Chris; a guide to Chicago's best cheap eats by legendary music producer Steve Albini, and more. Additionally, each chapter includes sly, witty illustrations by cartoonist Tony Millionaire. For veteran travelers, armchair enthusiasts, and those in between, World Travel offers a chance to experience the world like Anthony Bourdain.   ...Show more
Browse by category
Join our Book Clubs
Our Book Clubs meet bimonthly. We offer an Australian Fiction, a Non-Fiction, Crime Fiction and Travel Writing Book Clubs. Book Club members receive a 10% discount on the monthly book.
Meeting Room Available
We have one air-conditioned meeting room available for hire on a casual basis. The room seats up to 15 depending on seating and table configuration. Data projector is available.
Looking for Something Specific?
If you are looking for a particular book that you cannot find on our website please send us a query with as much (or as little) information as you have on the book and we will advise you price and availability by email. Contact