$32.99
AUD
Category: Crime Fiction
From the bestselling author of The Secrets She Keeps and Good Girl, Bad Girl comes a new thriller featuring the brilliant forensic psychologist Cyrus Haven as he becomes embroiled in an explosive murder case with disturbing origins. Criminal psychologist Cyrus Haven and Evie Cormac return in this mesme rizing new thriller from internationally bestselling author Michael Robotham, a writer Stephen King calls "an absolute master...with heart and soul." Who is Evie, the girl with no past, running from? She was discovered hiding in a secret room in the aftermath of a terrible crime. Her ability to tell when someone is lying helped Cyrus crack an impenetrable case in Good Girl, Bad Girl. Now, the closer Cyrus gets to uncovering answers about Evie's dark history, the more he exposes Evie to danger, giving her no choice but to run. Ultimately, both will have to decide if some secrets are better left buried and some monsters should never be named... ...Show more
$32.99
AUD
Category: Crime Fiction | Series: Jack Mcevoy Ser.
The hero of The Poet and The Scarecrow is back in the new thriller from #1 New York Times bestselling author Michael Connelly. Jack McEvoy, the journalist who never backs down, tracks a serial killer who has been operating completely under the radar--until now. Veteran reporter Jack McEvoy has taken dow n killers before, but when a woman he had a one-night stand with is murdered in a particularly brutal way, McEvoy realizes he might be facing a criminal mind unlike any he's ever encountered. McEvoy investigates--against the warnings of the police and his own editor--and makes a shocking discovery that connects the crime to other mysterious deaths across the country. But his inquiry hits a snag when he himself becomes a suspect. As he races to clear his name, McEvoy's findings point to a serial killer working under the radar of law enforcement for years, and using personal data shared by the victims themselves to select and hunt his targets. Called "the Raymond Chandler of this generation" (Associated Press), Michael Connelly once again delivers an unputdownable thriller that reveals a predator operating from the darkest corners of human nature--and one man courageous and determined enough to stand in his way. ...Show more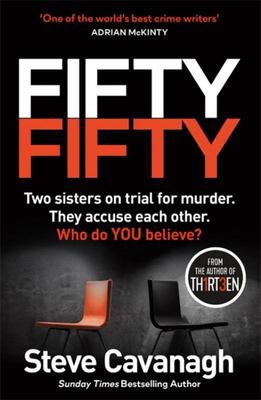 $32.99
AUD
Category: Crime Fiction
Two sisters on trial for murder. Both accuse each other. Who do YOU believe? Alexandra Avellino has just found her father's mutilated body, and needs the police right away. She believes her sister killed him, and that she is still in the house with a knife. Sofia Avellino has just found her father's m utilated body and needs the police right away. She believes her sister, Alexandra did it, and that she is still in the house, locked in the bathroom. Both women are to go on trial at the same time. A joint trial in front of one jury. But one of these women is lying. One of them is a murderer. Sitting in a jail cell, about to go on trial with her sister for murder, you might think that this is the last place she expected to be. You'd be wrong. ...Show more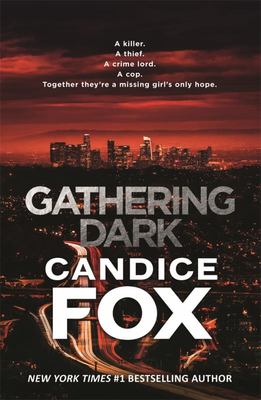 $32.99
AUD
Category: Crime Fiction
A convicted killer. A gifted thief. A vicious crime boss. A disillusioned cop. Together, they're a missing girl's only hope. Dr Blair Harbour, once a wealthy, respected surgeon in Los Angeles, is now an ex-con down on her luck. She's determined to keep her nose clean to win back custody of her son. But when her former cellmate, Sneak Lawlor, begs for help to find her missing daughter, Blair is compelled to put her new-found freedom on the line. Joined by LA's most feared underworld figure, Ada Maverick, the crew of criminals bring outlaw tactics to the search for Dayly. Detective Jessica Sanchez has always had a difficult relationship with the LAPD. And her inheritance of a $7 million mansion as a reward for catching a killer has just made her police enemy number one. It's been ten years since Jessica arrested Blair for the cold-blooded murder of her neighbour. So when Jessica opens the door to the disgraced doctor and her friends she expects abuse, maybe even violence. What comes instead is a plea for help. 'Perfectly paced, super addictive crime fiction.' Herald Sun 'Candice Fox's writing is inventive, thrilling and totally addictive.' James Patterson 'The queen of the creepily compulsive thriller.' WHO 'A master of the genre . . . grisly, original and exhilarating.' The Saturday Paper ...Show more
$32.99
AUD
Category: Crime Fiction
Number One New York Times bestselling author Kathy Reichs returns with her nineteenth riveting novel featuring forensic anthropologist Temperance Brennan, who must use all her tradecraft to discover the identity of a faceless corpse, its connection to a decade-old missing child case, and why the dead ma n had her phone number. It's sweltering in Charlotte, North Carolina and Temperance Brennan, still recovering from neurosurgery following an aneurysm, is battling nightmares, migraines, and what she thinks might be hallucinations when she receives a series of mysterious text messages, each containing a new picture of a corpse that is missing its face and hands. Immediately, she's anxious to know who the dead man is, and why the images were sent to her. An identified corpse soon turns up, only partly answering her questions. To win answers to the others, including the man's identity, she must go rogue. With help from a number of law enforcement associates including her Montreal beau Andrew Ryan and the always-ready-with-a-smart-quip, ex-homicide investigator Skinny Slidell, and utilizing new cutting-edge forensic methods, Tempe draws closer to the astonishing truth. But the more she uncovers, the darker and more twisted the picture becomes ... Praise for Kathy Reichs: 'Kathy Reichs writes smart--no, make that brilliant--mysteries that are as realistic as non-fiction and as fast-paced as the best thrillers about Jack Reacher or Alex Cross' James Patterson 'Kathy Reichs continues to be one of the most distinctive and talented writers in the genre. Her legions of readers worldwide will agree with me when I declare that the more books she writes, the more enthusiastic fans she'll garner' Sandra Brown 'Each book in Kathy Reichs's fantastic Temperance Brennan series is better than the last. They're filled with riveting twists andturns. No matter how many novels she writes, I just can't get enough!' Lisa Scottoline 'Reichs always delivers a pulse-pounding story' Publisher's Weekly 'Every minute in the morgue with Tempe is golden' The New York Times Book Review 'Bloody good beach reading!' USA Today 'Brennan is a winner, and so is Reichs' Daily News 'This is Kathy Reichs as maybe you've never read her before. The story starts like a pistol shot and fires nonstop through over three hundred layered pages. The twists are meticulously planned and thrown like bamboozling curves on the edge of the plate. But you will see new layers to the brilliant Tempe Brennan that may surprise you. Read this book. It was created by a master of the genre who knocks it out of the park.' David Baldacci, bestselling author of One Good Deed and Redemption 'Nobody writes a more imaginative thriller than Kathy Reichs or crafts a better sentence. Her latest forensic investigation, A Conspiracy of Bones, rivets with its non-stop pursuit of some of the vilest villains ever.' Clive Cussler, bestselling author of Night Probe and Sahara 'Sinister and chilling. In Tempe Brennan's riveting return to the investigative trail, she suddenly finds herself caught in a tangled web. Who can she trust? Maybe not even herself. Bones is back and better than ever.' Lisa Gardner, bestselling author of Never Tell, Look for Me, and Right Behind You 'A Conspiracy of Bones shows off Kathy Reichs' dazzling new level of plotting mastery. A thrilling read from one of my favorite writers.' Karin Slaughter, bestselling author of The Lost Widow, Pieces of Her, and Cop Town ...Show more
$19.99
AUD
Category: Crime Fiction
Viskic has created a genuinely unique and captivating character who deserves a place alongside Jack Irish and Cliff Hardy.' P.M. NewtonDeaf since early childhood, Caleb Zelic is used to meeting life head-on. Now, he's struggling just to get through the day. His best mate is dead, his ex-wife, Kat, is av oiding him, and nightmares haunt his waking hours.But when a young woman is killed, after pleading for his help in sign language, Caleb is determined to find out who she was. The trail leads Caleb back to his hometown, Resurrection Bay. The town is on bushfire alert, and simmering with racial tensions. As Caleb delves deeper, he uncovers secrets that could ruin any chance of reuniting with Kat, and even threaten his life. Driven by his own demons, he pushes on. But who is he willing to sacrifice along the way? ...Show more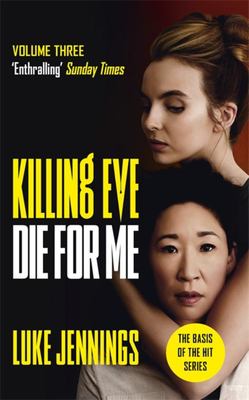 $29.99
AUD
Category: Crime Fiction | Series: Killing Eve Ser.
he basis for BAFTA-winning Killing Eve, a major BBC TV series, starring Sandra OhOn the run together, Eve Polastri and the psychopathic Villanelle take refuge in the underworld of St Petersburg. But the Twelve are closing in, as are the Russian security services. As the chess-game intensifies, and the g rip of winter tightens, the couple are drawn into a nightmare realm of conspiracy and murder.Die For Me is a fast-paced, sophisticated thriller but also a poignant tale of love and erotic obsession. As the action races towards its shattering conclusion, can Eve and Villanelle learn to fully trust each other or will their differences destroy them? ...Show more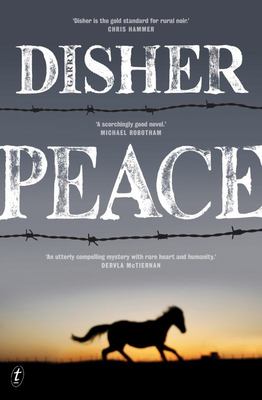 $29.99
AUD
Category: Crime Fiction | Series: Bitter Wash Road #2 | Reading Level: Adult
Constable Paul Hirschhausen runs a one-cop station in the dry farming country south of the Flinders Ranges. He's still new in town but the community work - welfare checks and working bees - is starting to pay off. Now Christmas is here and, apart from a grass fire, two boys stealing a ute and Brenda Fla nn entering the front bar of the pub without exiting her car, Hirsch's life has been peaceful. Until he's called to a strange, vicious incident in Kitchener Street. And Sydney police ask him to look in on a family living outside town on a forgotten back road. Suddenly, it doesn't look like a season of goodwill at all.   'Disher is the gold standard for rural noir.' Chris Hammer 'There is no peace for a good man when the mercury rises, tempers fray and violence simmers. This is a scorchingly good novel.' Michael Robotham 'Peace tells the story of a cop exiled to a wounded town in South Australia's dry country. In this brilliant novel Disher takes his readers on a harrowing journey.' Jock Serong 'I loved Peace. It is an an uplifting book, an utterly compelling mystery with rare heart and humanity. If you enjoyed Jane Harper's The Lost Man, this novel is for you.' Dervla McTiernan 'Peter Temple and Garry Disher will be identified as the crime writers who redefined Australian crime fiction in terms of its form, content and style.' Sydney Morning Herald ...Show more
$32.99
AUD
Category: Crime Fiction
THE SENSATIONAL NEW PSYCHOLOGICAL THRILLER FROM THE INTERNATIONALLY BESTSELLING AUTHOR OF THE GIRL BEFORE Pete Riley answers the door one morning to a parent's worst nightmare. On his doorstep is a stranger, Miles Lambert, who breaks the devastating news that Pete's two-year-old, Theo, isn't his biolog ical child after all - he is Miles's, switched with the Lamberts' baby at birth by an understaffed hospital. Reeling from shock, Peter and his partner Maddie agree that, rather than swap the children back, it's better to stay as they are but to involve the other family in their children's lives. But a plan to sue the hospital triggers an official investigation that unearths some disturbing questions about just what happened on the day the babies were switched. And when Theo is thrown out of nursery for hitting other children, Maddie and Pete have to ask themselves: how far do they want this arrangement to go? What are the secrets hidden behind the Lamberts' smart front door? And how much can they trust the real parents of their child - or even each other? An addictive psychological thriller, perfect for fans of The Silent Patient and Shari Lapena's The Couple Next Door. See what everyone is saying about JP Delaney, the hottest name in psychological thrillers: 'DAZZLING' - Lee Child 'ADDICTIVE' - Daily Express 'DEVASTATING' - Daily Mail 'INGENIOUS' - New York Times 'COMPULSIVE' - Glamour Magazine 'ELEGANT' - Peter James 'SEXY' - Mail on Sunday 'ENTHRALLING' - Woman and Home 'ORIGINAL' - The Times 'RIVETING' - Lisa Gardner 'CREEPY' - Heat 'SATISFYING' - Reader's Digest 'SUPERIOR' - The Bookseller 'MORE THAN A MATCH FOR PAULA HAWKINS' - Sunday Times ...Show more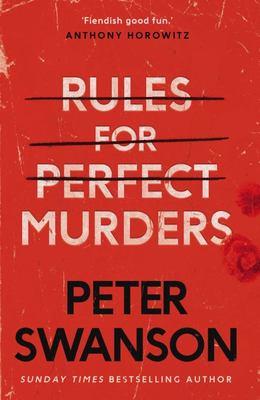 $29.99
AUD
Category: Crime Fiction
From a master of suspense... Eight classic murders. A single crime obsessive. Countless thrilling twists. A series of unsolved murders with one thing in common: each of the deaths bears an eerie similarity to the crimes depicted in classic mystery novels. The deaths lead FBI Agent Gwen Mulvey to mystery bookshop Old Devils. Owner Malcolm Kershaw had once posted online an article titled 'My Eight Favourite Murders,' and there seems to be a deadly link between the deaths and his list - which includes Agatha Christie's The ABC Murders, Patricia Highsmith's Strangers on a Train and Donna Tartt's The Secret History. Can the killer be stopped before all eight of these perfect murders have been re-enacted? ...Show more
$32.99
AUD
Category: Crime Fiction
'He didn't have to be normal, the boy realised. He just had to pretend.' It's winter in Melbourne and Detective Emmett Corban is starting to regret his promotion to head of the Missing Persons Unit, as the routine reports pile up on his desk. So when Natale Gibson goes missing, he's convinced this is t he big case he's been waiting for - the woman's husband and parents insist the devoted mother would never abandon her children, and her personal accounts remain untouched. But things aren't all they seem. The close-knit Italian family is keeping secrets - none bigger than the one Natale has been hiding. Just as the net seems to be tightening, the investigation is turned on its head. The body of a woman is found . . . then another. What had seemed like a standard missing person's case has turned into a frightening hunt for a serial killer, and time is running out. But to really understand these shocking crimes, Emmett and his team will need to delve back through decades of neglect - back to a squalid inner-city flat, where a young boy is left huddling over his mother's body . . .   ...Show more
$29.99
AUD
Category: Crime Fiction
An edge-of-your-seat debut thriller with identical twins, a crazy inheritance and a boat full of secrets. Who can you trust? Absolutely nobody! Identical twins only look the same …Beautiful twin sisters Iris and Summer are startlingly alike, but beyond what the eye can see lies a darkness that sets the m apart. Cynical and insecure, Iris has long been envious of open-hearted Summer's seemingly never-ending good fortune, including her perfect husband, Adam. Called to Thailand to help sail the family yacht to the Seychelles, Iris nurtures her own secret hopes for what might happen on the journey. But when she unexpectedly finds herself alone in the middle of the Indian Ocean, everything changes. Now is her chance to take what she's always wanted - the idyllic life she's always coveted. But just how far will she go to get the life she's dreamed about? And how will she make sure no one discovers the truth?Written with the chilling suspense of The Girl on the Train and Before I Go to Sleep, The Girl in the Mirror is an addictive thriller about greed, lust, secrets and deadly lies.'Immensely entertaining, hugely original, highly recommended. Rose Carlyle takes the reader on a wild ride, across an ocean and into the depths of a family riven by greed, jealousy and subterfuge . . . Like sorbet for the jaded palates of hardcore thriller fans.' - Chris Hammer, author of Scrublands and Silver ...Show more