$108.46
AUD
$123.95
(12% off)
Category: Health & Fitness
Food, Nutrition and Health introduces students to the study of human nutrition, and is framed around the relationship between food consumption and health. It fosters understanding about nutrition science by building understanding of how nutrition knowledge is developed, how to search for new knowledge a nd how to evaluate and apply new information. These skills are particularly relevant for those students targeting a career where they will give dietary advice. The text sees nutrition as predicated on a scientific knowledge base with specific applications to health within the context of the human life course. Its chapter organization and thoughtful pedagogical structure combine to equip students with the means to think more holistically about the relationships between nutrition science, and social and environmental issues. ...Show more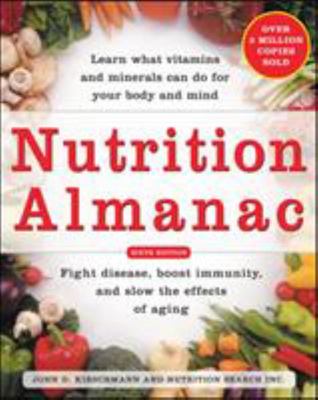 $33.21
AUD
$37.95
(12% off)
Category: Health & Fitness | Series: All Other Health
This book is your ultimate guide to choosing the right foods and supplements, feeling younger, improving health, and living longer. A trusted source for 30 years, Nutrition Almanac empowers you to take charge of your well-being by pinpointing the relationship between foods and health. Providing compreh ensive information on everything food-related, it helps you learn how to use nutrition to fight disease, boost immunity, and slow the effects of aging, as well as increase energy, elevate mood, improve digestion, and control weight. ...Show more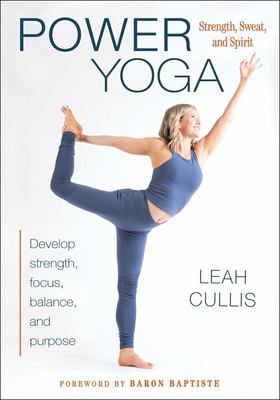 $49.87
AUD
$56.99
(12% off)
Category: Health & Fitness
Expand your energy and raise your sense of personal power with power yoga, the athletic and dynamic style of yoga that delivers high intensity and quick results. In Power Yoga: Strength, Sweat, and Spirit, you will learn the poses, practices, and philosophy of this fitness- and focus-boosting training method to strengthen your body and awaken your spirit. This potent practice is a complete workout on its own, but it also offers tremendous benefits when combined with other workouts and sports. In addition to physical strength, stamina, and flexibility, the dynamic movements of power yoga challenge you to develop focus, balance, and purpose that extend to life beyond the yoga mat. Dozens of warm-up, power, peak, and cool-down poses are presented in full color, and adaptations to modify or intensify each pose allow you to customize your practice for maximum effectiveness and safety. Sequences ranging from 5 to 60 minutes--including sport-specific sequences for running, cycling, team sports, and high-intensity activities--offer options that match your goals and lifestyle, and the 28-day plan can be adjusted into a plan that works for you, based on the results you want. Power Yoga: Strength, Sweat, and Spirit is your vehicle for creating extraordinary physical and spiritual results that you will notice quickly and be able to maintain for a lifetime. Become your most powerful self with power yoga. CE exam available For certified professionals, a companion continuing education exam can be completed after reading this book. The Power Yoga Online CE Exam may be purchased separately or as part of the Power Yoga With CE Exam package, which includes both the book and the exam. ...Show more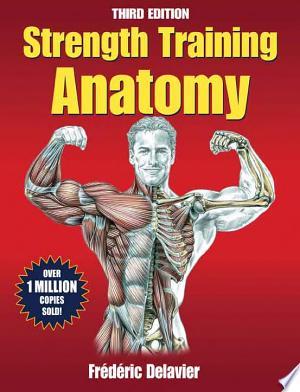 $51.60
AUD
$58.99
(12% off)
Category: Health & Fitness | Series: Anatomy Ser.
Over 1 million copies sold! With new exercises, additional stretches, and more of Frédéric Delavier's signature illustrations, you'll gain a whole new understanding of how muscles perform during strength exercises. This one-of-a-kind best-seller combines the visual detail of top anatomy texts with the b est of strength training advice.   Many books explain what muscles are used during exercise, but no other resource brings the anatomy to life like Strength Training Anatomy. Over 600 full-color illustrations reveal the primary muscles worked along with all the relevant surrounding structures, including bones, ligaments, tendons, and connective tissue.   Like having an X-ray for each exercise, the anatomical depictions show both superficial and deep layers and detail how various setup positions affect muscle recruitment and emphasize underlying structures. New pages show common strength training injuries in a fascinating light and offer precautions to help you exercise safely.   Author and illustrator Frédéric Delavier is the former editor in chief of the French publication PowerMag. He is a journalist for Le Monde du Muscleand a contributor to Men's Health Germanyand several other strength training publications. ...Show more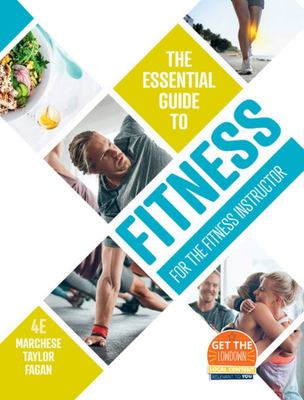 $90.08
AUD
$102.95
(12% off)
Category: Health & Fitness
Essential Guide to Fitness has been written for the Certificate III in Fitness. You'll be able to become employed in the fitness industry and work independently in other environments such as in leisure, aquatic and community centres. The text provides you with a background in anatomy, physiology and nut rition. It also introduces you to fitness orientation and programming, types of equipment and working with specific groups. It includes lots of real-world examples and activities to help you apply what you've learnt. Essential Guide to Fitness is highly illustrated with full colour diagrams and photographs. ...Show more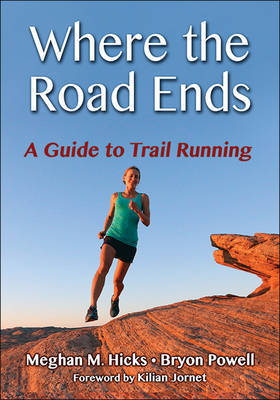 $39.33
AUD
$44.99
(12% off)
Category: Health & Fitness
Every year, countless runners, endurance athletes and outdoor enthusiasts discover the sport of trail running. Whether they run for peace of mind, appreciation of nature, or competition, they find a sport unlike any other. Where the Road Ends: A Guide to Trail Running captures the excitement, intensity and appeal of the outdoors. From training and preparation to overcoming nature's obstacles, it's all here, accompanied by detailed instruction, expert insights and stunning colour photography. Whether an experienced road runner looking for new challenges or an extreme athlete pushing their physical limits, they will need look no further than Where the Road Ends, the authoritative guide to trail running. ...Show more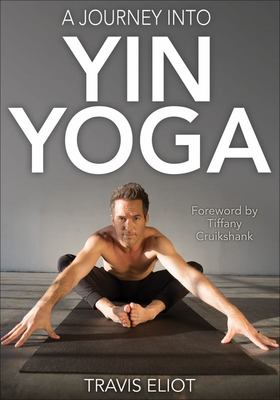 $49.99
AUD
Category: Health & Fitness
Take time to decompress. Relieve stress. Reduce anxiety. Face the challenges and joys of life with steadiness and grace. That is what A Journey Into Yin Yoga will help you do. Join world-renowned yoga instructor Travis Eliot as he guides you through this contemporary and effective approach for strength ening your mind, body, and spirit. You will learn about the origins and practice of yin yoga, a passive approach in which poses are held for a few minutes to target the connective tissues of the hips, pelvis, and lower spine. You will slowly and mindfully transition between poses as you gently allow those tissues to stretch, facilitating better circulation and joint health and improving flexibility. Throughout, you will learn the benefits, contraindications, alignment points, and modifications so you can adjust the poses to your needs and body type. Eliot also explains eight breathing techniques and eight meditation practices for improved focus, reduced stress, and enhanced clarity. Ten ready-to-use sequences allow you to target specific goals, including better sleep, spine flexibility, and healthy hips, knees, and shoulders. A Journey Into Yin Yoga presents over 50 yin yoga poses with stunning photos and detailed instruction, along with inspiring quotes, stories, and interviews from celebrities, doctors, and athletes. You will be inspired to discover your unique path to improved mental and physical strength and balance. CE exam available For certified professionals, a companion continuing education exam can be completed after reading this book. A Journey Into Yin Yoga Online CE Exam may be purchased separately or as part of the A Journey Into Yin Yoga With CE Exam package, which includes both the book and the exam. ...Show more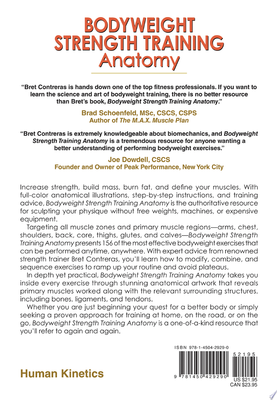 $41.99
AUD
$47.99
(12% off)
Category: Health & Fitness | Series: Anatomy Ser.
Going far beyond standard pull-ups, push-ups, and squats, Bodyweight Strength Training Anatomy presents 156 unique exercises that work every muscle in the body. Detailed anatomical artwork accompanies step-by-step instructions for performing each exercise anytime, anywhere, without the need for equipmen t or machines.  ...Show more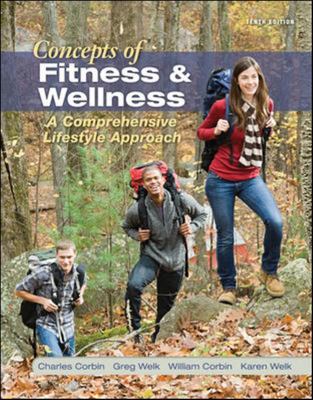 $10.00
AUD
$89.95
(88% off)
Category: Health & Fitness
Concepts of Fitness and Wellness provides readers with the self-management skills necessary to adopt a healthy lifestyle. Pioneering texts in this field, these revisions of Concepts are designed to deliver a comprehensive text and digital program that continues to be at the cutting edge of physical acti vity and health promotion, empowering students to make positive steps towards developing a lifelong commitment to being active. Building upon the tremendous success of previous editions, these new editions are being thoroughly fine-tuned to ensure that the writing style, examples, and illustrations are not only contemporary, but also accessible. Connect is the only integrated learning system that empowers students by continuously adapting to deliver precisely what they need, when they need it, and how they need it, so that your class time is more engaging and effective. ...Show more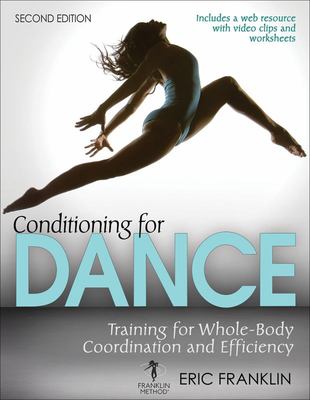 $47.10
AUD
Category: Health & Fitness
Eric Franklin's first edition of Conditioning for Dance was a bestseller-and it is back and better than ever, offering state-of-the-art conditioning exercises for dancers. An internationally renowned master teacher, Franklin has developed a science-based method of conditioning that is taught and practic ed in companies and schools around the world. In this new edition of Conditioning for Dance, he integrates the latest scientific research on strength, flexibility, and conditioning into his dance exercises. New to This Edition Since the first edition, the topic of dancers' health, wellness, and conditioning has taken on even greater importance in the dance community. Franklin has responded to this increased emphasis by adding these new exercises and resources: Over 100 new conditioning exercises-for all parts of the body-to support dancers in a wide range of genres, forms, and styles; Over 100 new illustrations and photos to explain and show the exercises; Two new chapters with exercises for a complete conditioning plan; A new web resource that offers; 17 video clips featuring Franklin showing correct execution of the conditioning exercises from the book, two 20-minute portable whole-body workouts that use elastic bands to increase strength and aerobic conditioning for dance, and a personal conditioning program you can use to set goals chapter by chapter and monitor your conditioning development to support your performance. In addition, the book is now printed in full color to enhance image quality in showing technique. Conditioning for Dance now has separate chapters for shoulders and feet, with additional information on calves and ankles. Franklin also offers practical tips to help you develop your personal conditioning plan, which you can set up through the web resource. Applying Principles Through the Franklin Method Conditioning for Dance is available in print and electronic formats. It uses the principles of resistance training, physics, anatomy, biomechanics, and neuroplasticity (using imagery for positive mental and physical changes) as applied to dance conditioning. Conditioning for Dance blends imagery, focus, and conditioning exercises for dancers to enhance their technique and performance while practicing injury-prevention strategies. Franklin uses experiential anatomy to show and explain how the conditioning principles work to condition your body. As you undertake the exercises, you gain awareness of the body's function and design and take in the knowledge of the principles through movement. This method, known as the Franklin Method, leads to greater understanding of your body, enhanced performance, and fewer injuries. Franklin developed the training systems within the book as well as a line of equipment, including the Franklin Band and Franklin Balls. Franklin has designed the exercises to transfer directly into dance steps; as such, they are appropriate for incorporating into the preparation time for dance classes. You can use the two 20-minute elastic-band workouts from the web resource to prepare you for class or rehearsal and build your strength and aerobic capacities. Immediate Benefits Conditioning for Dance offers you the culmination of decades of wisdom and experience in dance conditioning from a master teacher. By using its practical exercises, mind-body relationships, and conditioning routines, and in transferring the book knowledge to body experience, you will notice immediate benefits to your conditioning, strength, and flexibility. You will become kinesthetically aware, create great dance technique from within your own body, and begin to craft injury-free and artistically successful routines. ...Show more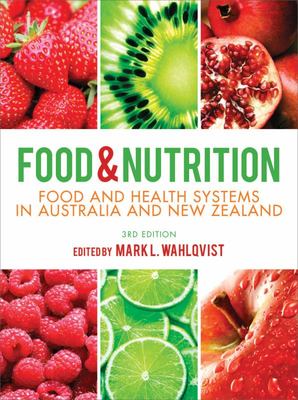 $74.38
AUD
$85.00
(12% off)
Category: Health & Fitness
Mark Wahlqvist's Food and Nutrition is widely regarded as the most authoritative introduction to nutrition and dietetics in the region. It provides a comprehensive overview of nutrition needs at different life stages, the biochemistry of foods, dietary disorders, and the social, political and environmen tal contexts of food production and consumption. This third edition has been completely revised and significantly expanded to encompass recent developments in nutritional science, technology and policy. It includes new material on genetics, regulation, food production, the importance of birth weight, lifestyle and cancer, and the implications of climate change for food production, safety and availability. Chapters are extensively illustrated with data and diagrams. The book is divided into the following sections: * Human nutrition * Food systems, security and policy * The biology of food components * Lifespan nutrition * Food and disease * Food and nutrition for individuals and society With chapters from leading nutritionists, Food andNutrition is an indispensable student text and a valuable professional reference. ...Show more