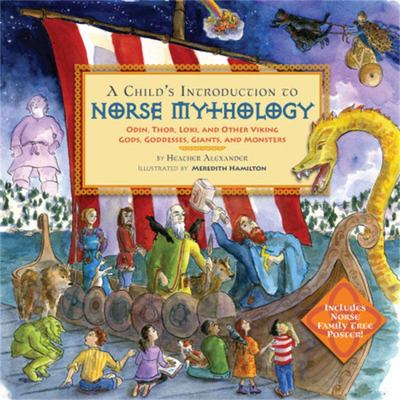 $29.99
AUD
Category: Mythology | Series: A\Child's Introduction Ser.
The newest book in the best-selling, award-winning A Child's Introduction series explores the popular and captivating world of Norse mythology. Organized into two parts, part one introduces characters like Odin, the leader of the Norse gods; Thor and his mighty hammer Mjollner; Frigg, weaver of the dest inies of humans and gods; frost and fire giants; cunning dwarves like Brokk and Eitri; and many more. Part two tells the stories of the suspenseful myths themselves including The Creation of the Cosmos, The Aesir-Vanir War, Loki Bound, Thor's Hammer and many more. Full of charming and witty illustrations from Meredith Hamilton, a Norse name pronunciation guide, and a removable Norse Family Tree poster, A Child's Introduction to Norse Mythology is the perfect way for kids to learn the historic stories behind today's popular mythical characters. ...Show more
$45.00
AUD
Category: Mythology
An encyclopedic A-to-Z guide, this beautifully designed and illustrated volume offers hundreds of rich and fascinating definitions of 700 major and minor characters, creatures, and places of classical mythology. The perfect companion to the 75th anniversary illustrated edition of Edith Hamilton's Mythol ogy. Classical Mythology A-to-Z is a comprehensive and engrossing guide to Greek and Roman mythology. Written by Annette Giesecke, PhD, Professor of Classics and Chair of Ancient Greek and Roman Studies at the University of Delaware, this brilliant reference offers clear explanations of every character and locale, and captures the essence of these timeless tales. From the gods and goddesses of Mount Olympus, to the heroes of the Trojan War, to the nymphs, monsters, and other mythical creatures that populate these ancient stories, Giesecke recounts, with clarity and energy, the details of more than 700 characters and places. Each definition includes cross-references to related characters, locations, and myths, as well their equivalent in Roman mythology and cult. In addition to being an important stand-alone work, Classical Mythology A-to-Z is also written, designed, and illustrated to serve as an essential companion to the bestselling illustrated 75th-anniversary edition of Mythology by Edith Hamilton, including 10 full-color plates and 2-color illustration throughout by artist Jim Tierney. ...Show more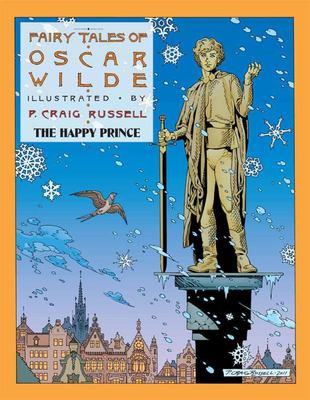 $22.95
AUD
Category: Mythology | Series: Fairy Tales of Oscar Wilde
Arguably the most famous and beloved of Oscar Wilde's nine fairy tales, this particular rendition stands apart from the others due to its brilliant illustrations by a master of comic art. After dying young, the Happy Prince's soul inhabits a beautiful ruby-encrusted statue covered in gold leaf which is perched high above the city. But when he sees the poverty, misery and desperateness of his people, he enlists the help of a barn swallow to remove the gilding of his statue and shower the riches on his people. In the spring, the townspeople are saved, but find only a stripped down and dull statue alongside a dead swallow. The remains are tossed into an ash heap, but an emissary of God recognises their sacrifice, and escorts them into the gardens of Heaven. Perfect for middle school students as an introduction to the world-famous author, the dazzling illustrations in this book suit the timeless writings of Wilde. ...Show more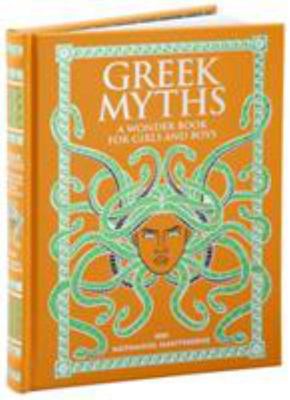 $29.99
AUD
Category: Mythology | Series: Barnes & Noble Leatherbound Children's Classics
This book, from one of American literature s greatest authors, Nathaniel Hawthorne, offers a selection of Greek myths, retold to make them more accessible for children. It includes the Gorgon s Head, the Three Golden Apples and the Paradise of Children, among others. This edition, leatherbound and featu ring illustrations by Walter Crane, is sure to make a welcome addition to any home library. ...Show more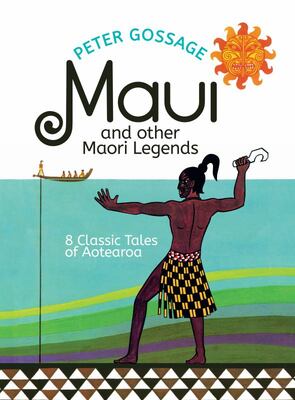 $34.99
AUD
Category: Mythology | Reading Level: very good
A beautiful collection of artist Peter Gossage's beloved Maori myths, in one stunning volume. Peter Gossage's memorable retellings of Maori oral myths have captivated the children of New Zealand for generations. Their dramatic and distinctive illustrations with minimal yet evocative language form a powe rful combination, and each has earned its place among the beloved classics of our literature. These are exciting, magical tales of adventure and intrigue. Several feature the remarkable culture hero Maui - the quick-witted and the trickster - whose exploits include slowing the sun in its course across the sky, fishing up the North Island/Te Ika a Maui, discovering the secret of fire and his attempt to trick the goddess of death and become immortal. Maui and Other Legends contains eight essential legends. The treasury includes- How Maui Found his Mother How Maui Found his Father and the Magic Jawbone, The Fish of Maui, How Maui Slowed the Sun, How Maui Found the Secret of Fire, How Maui Defied the Goddess of Death, Battle of the Mountains, Pania of the Reef. ...Show more
$35.00
AUD
Category: Mythology | Reading Level: 4 Non Fiction
An illustrated encyclopedia of Greek mythology like no other, Mythologica features startlingly beautiful and exquisitely otherworldly portraits of mythological characters in eye-popping color from artist Victoria Topping and authoritative text from Classics scholar and Greek mythology expert Dr. Stephen Kershaw. Uncover the colorful lives of 50 powerful gods and goddesses, earth-dwelling mortals, and terrifying monsters as you journey back in time to ancient Greece. From the fearless Athena and her meddlesome ways to the brave and bold Odysseus and his remarkable journey home, discover why these incredible stories are still a part of our culture today. Listed alphabetically, each boldly designed spread presents a figure from the myths, including their name in Greek, their defining attributes, and a summary of their story, along with multiple sidelights that provide additional facts. Interspersed with the profiles are summaries of famous mythological tales and historical events, like the Odyssey, the Trojan War, and the story of the Argonauts. An electrifying visual portrayal of each figure transports you directly into their wild world. Victoria Topping's artwork is a fusion of technological and traditional techniques that combines photography, painting, and cut-paper collage to perfectly express the blending of human and fantastic traits from which mythical beings are made. The thrilling images and digestible text provide the perfect introduction to the lively world of Greek mythology. Prepare to be amazed as you uncover the epic, heroic, and sometimes terrible lives of mortals, monsters, and gods. ...Show more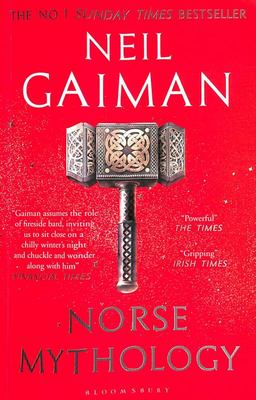 $19.99
AUD
Category: Mythology | Reading Level: near fine
The great Norse myths, which have inspired so much of modern fiction, are dazzlingly retold by Neil Gaiman. Tales of dwarfs and frost giants, of treasure and magic, and of Asgard, home to the gods: Odin the all-father, highest and oldest of the Aesir; his mighty son Thor, whose hammer Mjollnir makes the mountain giants tremble; Loki, wily and handsome, reliably unreliable in his lusts; and Freya, more beautiful than the sun or the moon, who spurns those who seek to control her. From the dawn of the world to the twilight of the gods, this is a thrilling, vivid retelling of the Norse mythology from the award-winning, bestselling Neil Gaiman. Bringing to life the epic myths that have inspired Gaiman's own writing, this glorious special edition for Christmas features a vibrant new red cover. ...Show more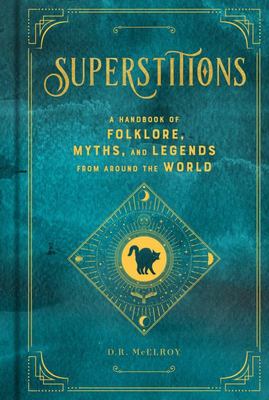 $29.99
AUD
Category: Mythology | Series: Mystical Handbook Ser.
Superstitions: A Handbook of Folklore, Myths, and Legends from Around the World is your definitive reference to the history of superstitions, traditions, myths, and folklore from around the world.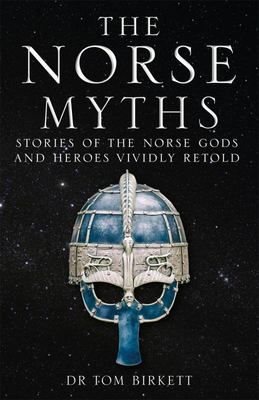 $22.99
AUD
Category: Mythology
The great Norse Myths are among the most dramatic and unforgettable stories in all human history. These fascinating, fantastical tales have inspired centuries of art, culture and literature, including the storytelling of Tolkien, Neil Gaiman, George R. R. Martin's Game of Thrones, Wagner's Ring Cycle an d Marvel Comics. The Norse Myths takes us on a thrilling journey through the Norse cosmos, from the creation of the world to Ragnarok, the final world-destroying conflict; via the Nine Worlds, and the exploits of the mighty gods and goddesses - mystical Odin, malicious Loki, mighty Thor and more - and their quarrel with the giants. Bringing to life the magical world of monsters and mythical creatures, The Norse Myths also introduces the adventures of humankind: folk heroes and tricksters; Sigmund's great battle in the Volsung Saga; the exploits of Kings and Princes; Viking exploration and settlement of new lands including Iceland, Greenland, America; and Viking life in the Mediterranean and the East. As well as a treasure trove of these epic stories of heroism and cruelty, squabbles and seductions, The Norse Myths is a comprehensive study of their origins, survival and interpretations - as academically important as it is exhilarating. ...Show more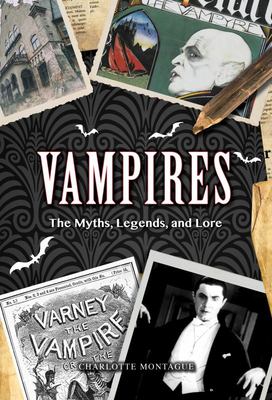 $24.99
AUD
Category: Mythology | Series: Oxford People Ser.
Vampires explores the diverse myths and legends and their impact upon popular culture and the possible explanations behind such phenomena. Part of the Oxford People series, the book also investigates the lives of real-life individuals who have dedicated themselves to the pursuit of blood, drawing on the vampiric tradition for their inspiration. Vampire legends go back centuries, taking root in the Gothic forests of Transylvania. Over time, the vampire has transformed from a vile re-animated corpse, bloated with blood, into a charming immortal that is cursed to live outside of society. From Count Dracula to Edward Cullen, for centuries we have been enthralled by the mysterious legends in horror fiction that surround these dangerous creatures. Vampires rarely have been more popular than they are today, although the Victorians could certainly give us a run for our money. Pale-skinned, dark-cloaked, garlic-hating--the folklore is crawling with memorable images that share one thing in common: their lust for blood. This book examines the vampire myth from all angles from its genesis in folklore, to offshoots of blood-thirsty creatures, and eventually to its status today as one of the most iconic figures in popular culture. We will try to find out how this strange creature, who came into being centuries ago, transformed through gothic imagination from a hideous monster into a suave villain. This book creates a beautiful addition to anyone interested in the paranormal, and a great gift for gothic readers. ...Show more