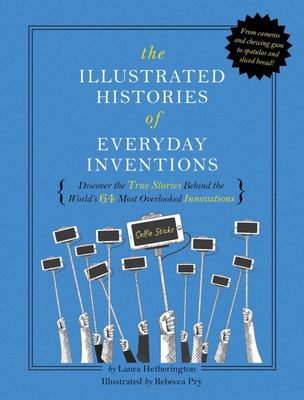 $26.99
AUD
Category: Social History | Series: Illustrated Histories Ser.
The Illustrated Histories of Everyday Inventions uncovers the fascinating, humorous, and often unbelievable origins behind the world's most overlooked innovations! Nobody knows the backstories behind our most taken-for-granted inventions, like credit cards, egg cartons, windshield wipers, and breakfast sandwiches! But the strange and wonderful origins of these inventions are far from ordinary: They are rooted in forgotten history. Inside this hardcover book, discover the extraordinary true stories of: the TOASTER -- actually the best thing before sliced bread   the PASSPORT -- the original Facebook   the TOOTHBRUSH -- so much more than bamboo + hog bristles  the PIZZA SAVER -- no pie left behind since 1985   SLICED BREAD -- at first, no one wanted it  and MANY, MANY MORE of history's most influential discoveries!  Organized chronologically from 75,000 B.C. to today and illustrated with more than 200 pieces of original artwork, The Illustrated Histories of Everyday Inventions is as beautiful as it is entertaining and informative. Discover who invented BATHING, why some of the first-ever BEDS were naturally mosquito-repellant, how president Theodore Roosevelt's encounter with a black bear inspired the TEDDY BEAR, and why SELFIE STICKS might be older than you think! ...Show more
$32.99
AUD
Category: Social History
What happens when a doctor kills a patient? Are GPs overprescribing antidepressants? Does 'female Viagra' work? What role can psychedelics and cannabis play in treating pain? What is sickness, and how much of it is in our heads? In The Medicine, Dr Karen Hitchcock takes us to the frontlines of everyday treatment, turning her acute gaze to everything from the flu season to dementia, plastic surgery to the humble sick day. In an overcrowded, underfunded medical system, she explores how more of us can be healthier, and how listening carefully to a patient's experience can be as important as prescribing a pill. These dazzling essays show Hitchcock to be one of the most fearless and illuminating medical thinkers of our time - reasonable, insightful and deeply humane. ...Show more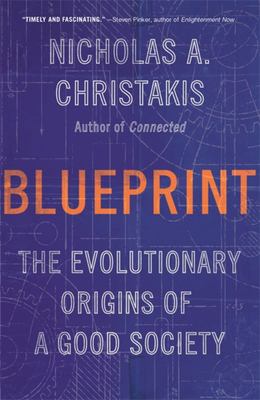 $22.99
AUD
Category: Social History
"A dazzlingly erudite synthesis of history, philosophy, anthropology, genetics, sociology, economics, epidemiology, statistics, and more" (Frank Bruni, New York Times), Blueprint shows how and why evolution has placed us on a humane path -- and how we are united by our common humanity. For too long, sc ientists have focused on the dark side of our biological heritage: our capacity for aggression, cruelty, prejudice, and self-interest. But natural selection has given us a suite of beneficial social features, including our capacity for love, friendship, cooperation, and learning. Beneath all our inventions -- our tools, farms, machines, cities, nations -- we carry with us innate proclivities to make a good society.   In Blueprint, Nicholas A. Christakis introduces the compelling idea that our genes affect not only our bodies and behaviors, but also the ways in which we make societies, ones that are surprisingly similar worldwide.   With many vivid examples -- including diverse historical and contemporary cultures, communities formed in the wake of shipwrecks, commune dwellers seeking utopia, online groups thrown together by design or involving artificially intelligent bots, and even the tender and complex social arrangements of elephants and dolphins that so resemble our own -- Christakis shows that, despite a human history replete with violence, we cannot escape our social blueprint for goodness.   In a world of increasing political and economic polarization, it's tempting to ignore the positive role of our evolutionary past. But by exploring the ancient roots of goodness in civilization, Blueprint shows that our genes have shaped societies for our welfare and that, in a feedback loop stretching back many thousands of years, societies have shaped, and are still shaping, our genes today. ...Show more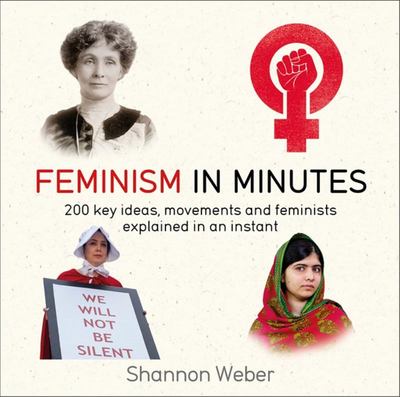 $22.99
AUD
Category: Social History | Series: In Minutes Ser.
WHAT DOES FEMINISM REALLY ENTAIL?200 KEY IDEAS, MOVEMENTS, AND FEMINISTS, EXPLAINED IN AN INSTANT Having an understanding of feminism is more important now than ever. But what really is feminism--in all its forms? Who were the key feminists, and what are their beliefs? What do feminists think about abo rtion, sex, religion, pornography, and beauty? And have women achieved equality--or is there still much to do?Feminism in Minutes is the quickest, easiest way to understand the big ideas and history of feminism, from its ancient roots to the #MeToo movement today.Contents include: Basic Concepts; Schools of Feminism; Marriage and Motherhood; Sex, Power, and Sexuality; Activism and Justice; Gender, Religion, War; Women's Achievements in Science and Medicine; Feminism in the Arts; as well as the ideas of essential feminists such as Simone de Beauvoir, Emmeline Pankhurst, Sojourner Truth, Germaine Greer, Betty Friedan, Gloria Steinem, Pussy Riot, and Malala Yousafzai, among many others. ...Show more
$29.95
AUD
Category: Social History
Asian-Australians have often been written about by outsiders, as outsiders. In this collection, compiled by award-winning author Alice Pung, they tell their own stories with verve, courage and a large dose of humour. These are not predictable tales of food, festivals and traditional dress. The food is h ere in all its steaming glory - but listen more closely to the dinner-table chatter and you might be surprised by what you hear. Here are tales of leaving home, falling in love, coming out and finding one's feet. A young Cindy Pan vows to win every single category of Nobel Prize. Tony Ayres blows a kiss to a skinhead and lives to tell the tale. Benjamin Law has a close encounter with some angry Australian fauna, and Kylie Kwong makes a moving pilgrimage to her great-grandfather's Chinese village. Here are well-known authors and exciting new voices, spanning several generations and drawn from all over Australia. In sharing their stories, they show us what it is really like to grow up Asian, and Australian. Contributors include: Shaun Tan, Jason Yat-Sen Li, John So, Annette Shun Wah, Quan Yeomans, Jenny Kee, Anh Do, Khoa Do, Caroline Tran and many more. ...Show more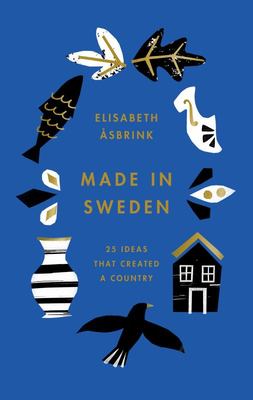 $29.99
AUD
Category: Social History
In recent times, we have come to favour all things Scandi - their food, furnishings, fiction, fashion, and general way of life. We seem to regard the Swedes and their Scandinavian neighbours as altogether more sophisticated, admirable, and evolved than us. We have all aspired to be Swedish, to live in t heir perfectly designed society from the future. But what if we have invested all our faith in a fantasy? What if Sweden has in fact never been as moderate, egalitarian, dignified, or tolerant as it would like to (have us) think? The recent rise to political prominence of an openly neo-Nazi party has begun to crack the illusion, and here now is Swede Elisabeth sbrink, who loves her country 'but not blindly', presenting twenty-five of her nation's key words and icons afresh, in order to give the world a clearer-eyed understanding of this fascinating country ... ...Show more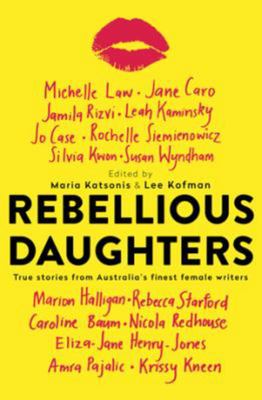 Rebellious Daughters
by Maria Katsonis & Lee Kofman (edited by)
$32.99
AUD
Category: Social History
Good daughters hold their tongues, obey their elders and let their families determine their destiny. Rebellious daughters are just the opposite. In Rebellious Daughters, some of Australia's most talented female writers share intimate and touching stories of rebellion and independence as they defy the ex pectations of parents and society to find their place in the world. Powerful, funny and poignant, these stories explore everything from getting caught in seedy nightclubs to lifelong family conflicts and marrying too young. Beautifully written, profoundly honest and always relatable, every story is a unique retelling that celebrates the rebellious daughter within us all. Not every woman is a mother, grandmother, aunty or sister - but all women are daughters. Rebellious Daughters contributors: Jane Caro, Jamila Rizvi, Susan Wyndham, Rebecca Starford, Marion Halligan, Amra Pajalic, Jo Case, Leah Kaminsky, Michelle Law, Caroline Baum, Rochelle Siemienowicz, Nicola Redhouse, Krissy Kneen, Silvia Kwon and Eliza-Jane Henry-Jones. ...Show more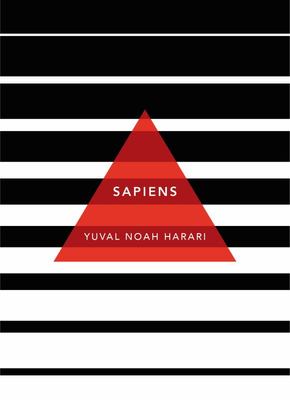 Sapiens
by Yuval Noah Harari
$24.99
AUD
Category: Social History | Series: Patterns of Life
New York Times Bestseller A Summer Reading Pick for President Barack Obama, Bill Gates, and Mark Zuckerberg From a renowned historian comes a groundbreaking narrative of humanity's creation and evolution--a #1 international bestseller--that explores the ways in which biology and history have defined us and enhanced our understanding of what it means to be "human." One hundred thousand years ago, at least six different species of humans inhabited Earth. Yet today there is only one--homo sapiens. What happened to the others? And what may happen to us? Most books about the history of humanity pursue either a historical or a biological approach, but Dr. Yuval Noah Harari breaks the mold with this highly original book that begins about 70,000 years ago with the appearance of modern cognition. From examining the role evolving humans have played in the global ecosystem to charting the rise of empires, Sapiens integrates history and science to reconsider accepted narratives, connect past developments with contemporary concerns, and examine specific events within the context of larger ideas. Dr. Harari also compels us to look ahead, because over the last few decades humans have begun to bend laws of natural selection that have governed life for the past four billion years. We are acquiring the ability to design not only the world around us, but also ourselves. Where is this leading us, and what do we want to become? Featuring 27 photographs, 6 maps, and 25 illustrations/diagrams, this provocative and insightful work is sure to spark debate and is essential reading for aficionados of Jared Diamond, James Gleick, Matt Ridley, Robert Wright, and Sharon Moalem. ...Show more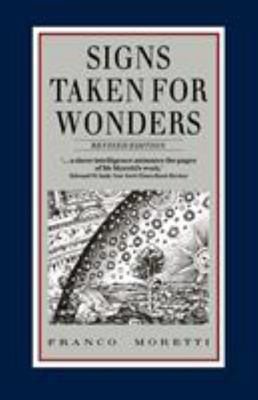 $15.99
AUD
Category: Social History
Shakespearean tragedy and Dracula, Sherlock Holmes and Ulysses, Frankenstei and The Waste Land--all are celebrated "wonders" of modern literature, whether in its mandarin or popular form. However, it is the fact that these texts are so central to our contemporary notion of literature that sometimes hind ers our ability to understand them. Franco Moretti applies himself to this problem by drawing skillfully on structuralist, sociological and psycho-analytic modes of enquity in order to read these texts as literary systems which are tokens of wider cultural and political realities. In the process, Moretti offers us compelling accounts of various literary genres, explores the relationships between high and mass culture in this century, and considers the relevance of tragic, Romantic and Darwinian views of the world. ...Show more
Items per page:
1 - 9 of 9