$35.00
AUD
Category: Natural History
A work of bright and careful genius. Equal parts Rebecca Solnit and Annie Dillard, Giggs masterfully combines lush prose with conscientious history and boots-on-the-beach reporting. With Giggs leading us gently by the hand we dive down, and down, and down, into the dark core of the whale, which, she con vincingly reveals, is also the guts of the world.' Robert Moor, New York Times bestselling author of On Trails: an exploration 'There is a kind of hauntedness in wild animals today: a spectre related to environmental change … Our fear is that the unseen spirits that move in them are ours. Once more, animals are a moral force.' When Rebecca Giggs encountered a humpback whale stranded on her local beach in Australia, she began to wonder how the lives of whales might shed light on the condition of our seas. How do whales experience environmental change? Has our connection to these fabled animals been transformed by technology? What future awaits us, and them? And what does it mean to write about nature in the midst of an ecological crisis? In Fathoms: the world in the whale, Giggs blends natural history, philosophy, and science to explore these questions with clarity and hope. In lively, inventive prose, she introduces us to whales so rare they have never been named; she tells us of the astonishing variety found in whale sounds, and of whale 'pop' songs that sweep across hemispheres. She takes us into the deeps to discover that one whale's death can spark a great flourishing of creatures. We travel to Japan to board whaling ships, examine the uncanny charisma of these magnificent mammals, and confront the plastic pollution now pervading their underwater environment. In the spirit of Rachel Carson and John Berger, Fathoms is a work of profound insight and wonder. It marks the arrival of an essential new voice in narrative nonfiction and provides us with a powerful, surprising, and compelling view of some of the most urgent issues of our time.   ...Show more
$35.00
AUD
Category: Natural History
Animals don't exist to teach us things, but that is what they have always done, and most of what they teach us is what we think we know about ourselves. From the internationally acclaimed author of H is for Hawk comes Vesper Flights, a transcendent collection of essays about the human relationship to th e natural world. In Vesper Flights Helen Macdonald brings together a collection of her best loved pieces, along with new essays on topics and stories ranging from nostalgia and science fiction to the true account of a refugee's flight to the UK. Her pieces ranges from accounts of swan upping on the Thames to watching tens of thousands of cranes in Hungary to seeking the last golden orioles in Suffolk's poplar forests. She writes about wild boar, swifts, mushroom hunting, migraines, the strangeness of birds' nests, what we do when we watch wildlife and why. This is a book about observation, fascination, time, memory, love and loss and how we make the world around us, by one of this century's most important and insightful nature writers. ...Show more
$35.00
AUD
Category: Natural History | Reading Level: 4 Non Fiction
Dolphins and parrots call each other by their names. Fork tailed drongos mimic the calls of other animals to scare them away and then steal their dinner. In the songs of many species of birds, and in skin patterns of squid, we find grammatical structures . . . If you are lucky, you might meet an animal that wants to talk to you. If you are even luckier, you might meet an animal that takes the time and effort to get to know you. Such relationships can teach us not only about the animal in question, but also about language and about ourselves. From how prairie dogs describe intruders in detail -- including their size, shape, speed and the colour of their hair and T-shirts -- to how bats like to gossip, to the impressive greeting rituals of monogamous seabirds, Animal Languages is a fascinating and philosophical exploration of the ways animals communicate with each other, and with us. Researchers are discovering that animals have rich and complex languages with grammatical and structural rules that allow them to strategise, share advice, give warnings, show love and gossip amongst themselves. Animal Languages will reveal this surprising hidden social life and show you how to talk with the animals. ...Show more
$29.99
AUD
Category: Natural History
Australia and New Zealand are perfect places to whale watch. Diverse marine environments from tropical to subantarctic mean that numerous species of whales and dolphins are drawn to our waters, while a plethora of tour operators makes it easier than ever to spot these wonderful creatures in their natura l habitat. Whale Watching in Australian and New Zealand Waters is the definitive guide for holidaymakers, nature lovers and marine specialists. Completely revised and updated, this easy to follow book offers: #65533;e#65533; detailed descriptions of the ecology and behaviour of common whale and dolphin species, including their conservation status #65533;e#65533; a comprehensive guide to the best whale watching sites #65533;e#65533; identification notes, detailed colour illustrations and locator maps for each species #65533;e#65533; completely revised and up to date resources section Peter Gill has been involved in whale research since 1983. He has researched humpback and southern right whales, and is currently studying blue whales off ...Show more
$36.99
AUD
Category: Natural History
A Field Guide to Reptiles of Queensland covers all of Queensland's 440 named species, including 135 that occur nowhere else. Colour photographs make for quick identification, aided by line drawings, keys, distribution maps and descriptions.
$24.99
AUD
Category: Natural History | Series: Naturalist's Guide
It's the first book to show every species and subspecies of Australian snake, and the first new book on Australian snakes to be published for 27 years. High quality photographs from Australia's top nature photographers are accompanied by detailed species descriptions which include nomenclature, size, di stribution, habits, and habitat. The user-friendly introduction covers the geography and climate of Australia, types of habitat, and details of orders and families. Also included is an all-important checklist of all of the snakes of Australia encompassing, for each species, its common and scientific name, and its global IUCN status as at 2018. ...Show more
$14.99
AUD
$29.99
(50% off)
Category: Natural History
Our backyards form an important habitat for wildlife, providing food, shelter and a place to live and breed for countless species of birds, mammals, insects, reptiles and amphibians. This useful guide has many identification spreads on key species and families of wildlife likely to be encountered. It al so looks at ways of improving and enhancing your garden so that it can offer the most opportunities for wildlife and therefore the greatest amount of enjoyment to its owners. All in all it is an essential read for anyone hoping to create a haven for nature on their doorstep. ...Show more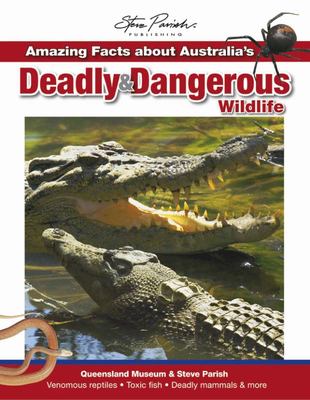 $14.95
AUD
Category: Natural History | Series: Amazing Facts about Australia Ser.
This book is packed full of information and you'll be amazed at how much you learn about Australia's deadly and dangerous animals by dipping into the remarkable facts presented. Our aim is to inspire in our readers a curiosity and thirst to know more about the deadly and dangerous animals that share our natural environment. Having a proper understanding of these animals, and the environments in which they live, is essential for avoiding harmful encounters, and also helps foster a respect for life. Many of the creatures in this book may seem insignificant, yet their collective existence has had a profound effect on the human race (and vice versa) - and will continue to do so for many years to come. With great enthusiasm I set out on another incredible adventure of learning and discovery in collaboration with the Queensland Museum, joining with their talented publication team to produce this book. I hope that you'll embark on our discovery of the world of Australia's deadly and dangerous creatures and be amazed by what you find. ...Show more
$29.99
AUD
Category: Natural History
In this stunning companion to Australian Birds, Matt Chun takes to the oceans to explore Australia's most fascinating sea creatures, from the great white shark to the tiny soldier crab.  Matt Chun's unique way of rendering our natural world will spark young readers' imaginations and evoke awe in all nat ure enthusiasts. ...Show more
$39.99
AUD
Category: Natural History | Series: Bradt Travel Guides (Wildlife Guides) Ser.
A new, thoroughly updated second edition of Bradt's Australian Wildlife, covering habitats, mammals, birds, reptiles, amphibians, invertebrates, the marine environment and where to go. Wildlife writer Stella Martin combines the encyclopaedic knowledge of David Attenborough with the enthusiasm of the lat e Steve Irwin to offer a unique guide which, compared to others, is variously more portable and more detailed, has a broader scope, goes beyond identification notes and includes an in-depth guide to ecosystems. It also covers all regions of Australia.Background chapters explain how Australia's wildlife evolved in isolation and how the geology, soil and climate affect its natural history. There is also a close look at Australia's infamously dangerous creatures, avoiding the clich s and putting their threat into perspective: although most of the world's most venomous snakes are found in Australia, they are by no means the deadliest. Essential advice is offered for avoiding hazardous wildlife and there are also useful first aid tips. Up-to-date information on conservation is included, including fire and its role in the Australian ecology and the effect of exotic feral animals and weeds. And there are tips on how to find, enjoy and identify wildlife with a 'where to go' section featuring a state-by-state overview of key wildlife sites, with maps. With a focus on interesting information about the general biology and behaviour of the animals - with some detail about the most commonly seen species - and explaining how the different ecosystems 'work', this guide is for visitors who want to know more about what they see but don't have room for an entire library of reference books. It is a book to read in bed - and encourage you to be up at dawn. ...Show more